Palak And Vanpayar Thoran ( Palak And Red Cow Peas Stir Fry With Coconut)
It's is a tasty dish. Spinach is a source of many vitamins, minerals and anti-oxidants. It is delicious and easy to make. It has rich source of vitamin A, good source for iron, for getting good memory etc. I learnt this recipe from my Mom.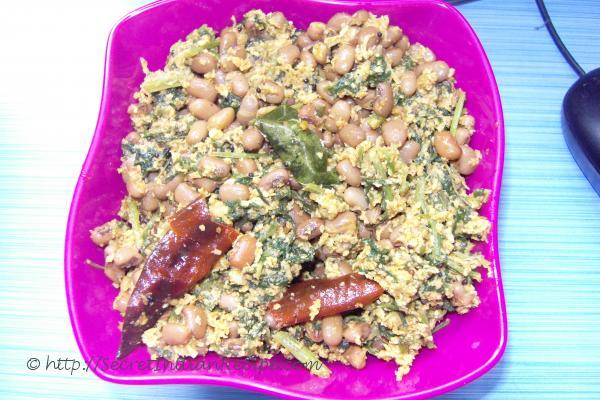 Ingredients:
Green chilli- 250 grams
Mustard- 1/2 tsp
Garlic - 2or 3 cloves
Red chilli powder-1 tsp
Kunjulli- (shallots) -4
Coconut grated - 1/2 cup
Curry Leaves-Few
Coconut oil -1 spoon
Turmeric powder-1/2 tsp
Cumin seeds - 1/2 tsp
Dry red chilli- 3
Palak -2 bunch
Red cow peas -1cup
Garlic - 3
Water for grinding-2 tsp
Directions:
Soak the red cow peas overnight in normal water for 6 hours.
Pressure cook with enough water for 10-15 minutes till it is cooked. Chop Palak nicely.
Heat coconut oil in a pan and add mustard seeds . When it splutters, add chopped Palak, salt, turmeric powder, red chilli and mix well.
Cover the pan and cook for 2 minutes. Add cooked red cow peas to this. Stir for 2 minutes.
Grind coconut with 2teaspoon of normal water, garlic, cumin seeds, green chilli and onions. Add ground mix to the pan.
Mix well, slow down the flame for 2-3 minutes until water dries up completely.
Now Palak Van payer Thoran is ready to serve.
Footnotes:
Red cow peas have to soak overnight otherwise it will not cook easily.