Palak Biriyani (indian Spinach Biriyani)
Well once in a while we go vegetarian on a Sunday and that's because generally we are hardcore non veg eaters. But even when we go veg, we cannot stick to dal and rice there has to be some melodrama, some grandeur in our meals. So this Sunday we had palak biriyani with curd and pickle. Since we were in a hurry to go to church, I did the pressure cooker method. Now I am not a fan of this method. I like biriyani slow cooked but the pressure cooker method does ease the process. But my problem with this method is that though it tastes soft and yum when served reheating this from the refrigerator will make you realize that the pressure cooking makes the rice sticky, But, that's fine for me these days because my daughter has it too. Try this biriyani with some raita, pickle and papad and you will love it too.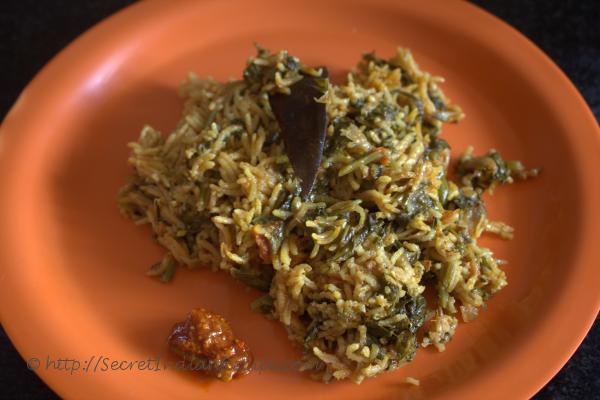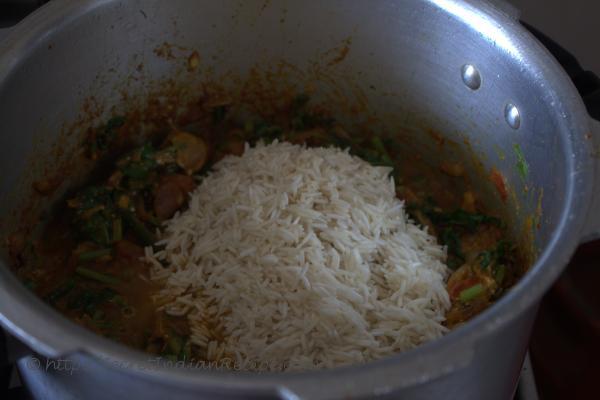 Ingredients:
Palak- 5 bunches
Basmati rice- 2 cups
Cinnamon- 1 inch long stick
Cloves- 2
Peppercorns- 1/4 tsp
Cardamom- 1
Cumin seeds- 1/2 tsp
Bay leaf- 2
Sliced onions- 4 cups
Tomatoes- 4
Ginger- 2 inch long piece
Garlic- 15 cloves
Turmeric powder- 1/2 tsp
Chilli powder- 1 tsp
Garam masala- 1 tsp
Curd- 1/2 cup
Salt- to taste
Ghee- 3 tsp
Coriander leaves chopped- 1 cup
Oil- 1/4 cup
Directions:
Clean and chop the palak roughly. Wash and soak the basmati rice for 30 minutes.
Heat oil in a pressure cooker and fry the onions till they are golden. Set the fried onions in a plate after draining them when they are golden.
Transfer the oil used for frying to a bowl and add ghee to the pressure cooker. Add all the whole spices except cumin and roast them for 2 minutes.
Now add the cumin seeds after the whole spices are roasted. Into these spices add the minced ginger garlic paste .
Saute till the ginger and garlic paste browns. Now add the tomatoes and salt and cook them till the tomatoes wilt.
Add the turmeric, chili and garam masala powders after this and saute them till their raw smell abates.
Add curd and stir the masala for 2 minutes. Now add the chopped palak and cook the palak for 2 minutes.
Add the chopped coriander leaves, fried onions back into the gravy and give them a thorough stir.
Add the washed rice, salt and 3 and 1/2 cups of water. Pressure-cook the biriyani up to 1 whistle and it's ready.
Serve with raita, pickle and a papad.