Palak Bonda Aur Dahi Ki Chutney (spinach Cutlet With Yoghurt Dip)
Just like many international cuisine, Indian cuisine also has a range of complimentary recipes chutney, salads and Pickles which are served with particular recipes to enhance the taste. For example our very own Pani puri is served with the tangy and spicy ' Pani' which makes it so irresistable. Parathas like Aloo paratha or Gobhi Paratha is served with Pickles or Dahi. Pakoras / fritters are always served with chutney to give you a mouth watering taste. Here I am presenting a unique Bonda recipe with special dahi chutney. ' Bonda' is usually reffered as pakoras or fritters in India wherein some vegetables are stuffed in Bread. In Palak Bonda we mix Palak, Carrots and some typical Indian Spices. The Dahi Chutney is equally unique and has same spices as in Bonda to compliment the recipe.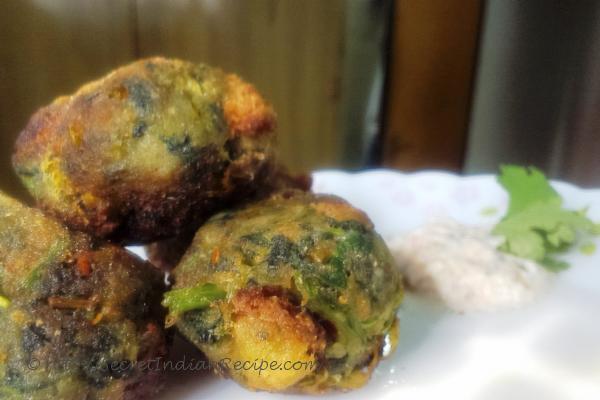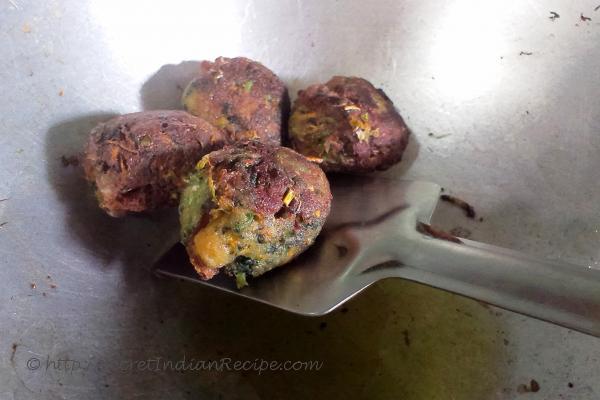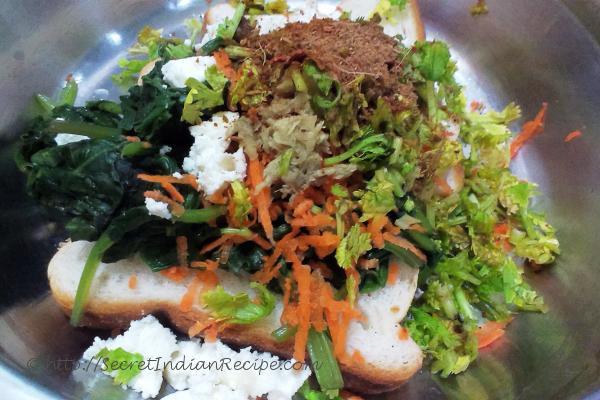 Ingredients:
(For Palak Bonda)
Bread – 4 slices
Spinach – ½ bowl chopped
Carrot – ¼ bowl grated
Ginger – ½ inch piece (crushed)
Paneer (Cottage Cheese) – 4-5 tablespoon grated
Coriander leaves – a hand full (chopped)
Roasted Cumin and red chili powder – 1 tablespoon
Garam Masala powder – ¼ teaspoon
Salt – To taste
Maida – 2-3 tablespoon
Oil – to fry
(For Dahi Ki chutney)
Dahi (Yoghurt) – ¼ cup
Salt and Sugar to taste
Roasted cumin and red chili powder - ½ teaspoon
Chopped Coriander leaves – few
Garam Masala powder – a pinch
Directions:
To make bonda, first blanch the palak in a cup of water for 5 mintues. Drain the excess water and then transfer it in a bowl.
Add mashed bread, grated carrots, ginger, paneer, roasted cumin and red chili powder, garam masala, coriander leaves and salt and mix it well by both your hands.
Take portions from the palak mixture and roll them into balls. Roll these balls over maida to prevent breakage and to give proper shape.
Now heat oil in a wok and fry till they turn light brown.
For the yoghurt dip, combine yoghurt, salt and sugar, roasted cumin and red chili powder, garam masala and chopped coriander leaves in a bowl and serve with Palak bonda.
Footnotes:
To make roasted cumin and red chili powder, take 2 tablespoon of cumin seeds and 1 whole red chili, roast it on a pan for a mintue and then grind when it is still hot.