Palak Chole (chickpeas In Spinach Gravy)
Palak chole is a side dish which combines the crunchiness of chickpeas with the silky smooth spinach gravy. Great in taste and healthy!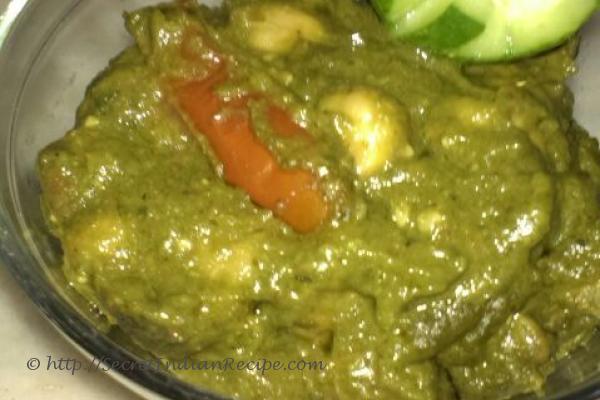 Ingredients:
Spinach – I bunch
Chickpeas – 30 grams (soaked in water for 5 hours)
Onion - 2 onions (paste)
Ginger garlic paste – 2 tablespoon
Green chilli – 3-4 pieces (paste)
Chana masala powder – 2 tablespoon
Cashew paste - 2 tablespoon.
Tomato – 1 piece
Garam masala – 1 tablespoon
Salt – 1 tablespoon
Mustard oil – 4 tablesppon
Ghee – 1 tablespoon
Directions:
Blanch the spinach and grind it in paste
Boil the chickpeas and keep them aside.
Heat oil in a karahi and put the onion paste.
Sauté for few seconds and then add ginger garlic paste, green chilli paste, Fry till the masala till oil leaves the sides
Add chana masala powder, palak paste, cashew paste and tomato and chickpeas and cook on low heat for about 10 minutes.
Finally add salt, garam masala and ghee and mix well. Chole with palak is ready: Serve with hot chapattis and curd. Also tastes great with puris or plain steamed rice.