Palak Ki Kajuwale Tikki (spinach And Cashew Nut Snack)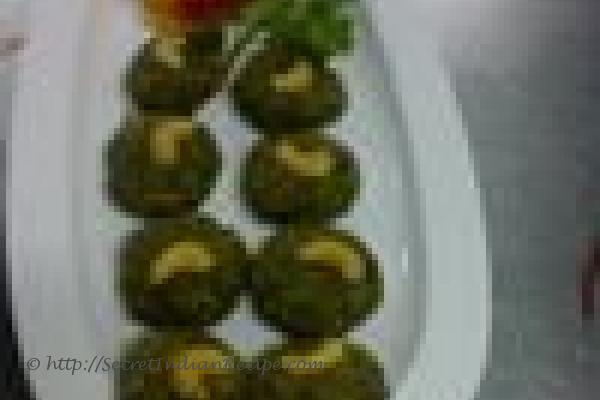 Ingredients:
1 Bunch fresh palak (spinach)
5 Pcs of whole kaju
1 Big boiled patato
1 Tsp chopped garlic
1 Tsp chopped green chillies
1 Tsp chopped ginger
Pinch of salt
Pinch of chat masala
Pinch of white pepper powder
50 gm Besan
50 gm bread crumbs
Oil to fry
Directions:
Chop the palak and peel the boiled patato
In a Bowl smash and mix them well. Add chopped ginger, garlic and chilies. Add salt and all masalas.
Add besan and bread crumbs mix and combine all ingredients well
Make 8 medium size balls.
Split 4 pieces kaju in two then put one piece of kaju on each balls. Then slightly press inbetween your palms to form tikkis
Heat Oil in Kadhai or pan and fry the tikkis till brown. Serve with sweet chilli sauce.