Palak Paneer Kofte (cottage Cheese And Spinach Dumplings In Gravy)
My Family is no different when it comes to preference of food. We all talk about eating simple satvik food, avoiding Non – vegetarian food and 'eating healthy'. But when I serve simple dal, chappati and sabzi for dinner, my husband ends up eating only two chappati, whereas my in laws substitute one chappati with mangoes…..and My son will simply say, 'Mummy food is not good'. 'Where are my Paneer and Naan?' I feel, we can only make our family, eat healthy is by changing our cooking style. I find koftas are best way to include veggies in your diet. Many people think, cooking koftas means consuming more oil. It is actually not so. You can roast your koftas with just brushing a little oil or you can simply bake them in oven. For gravy also use a tomato based or cashew based gravy, which requires less oil and less cooking. Cashew is source of good fat so you need not worry about calorie content. Here is a delicious palak and paneer kofta curry, which can be a good treat to your family and friends.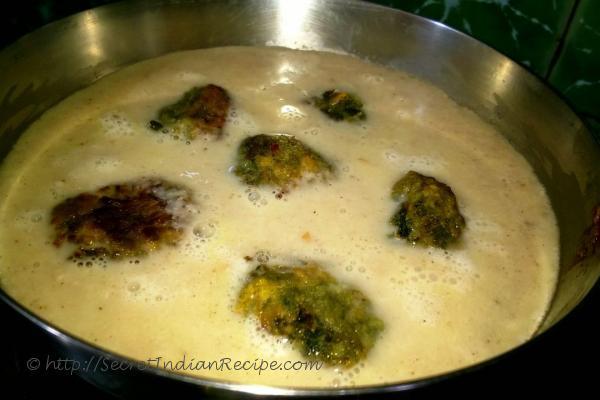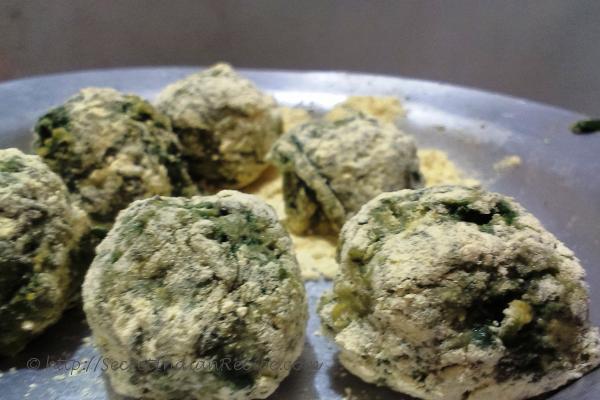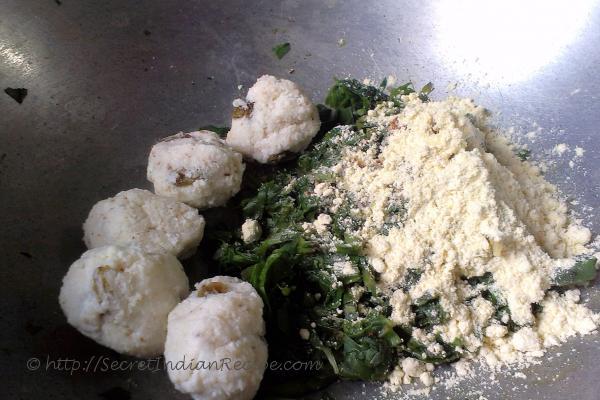 Ingredients:
(For Kofte) –
Paneer(Cottage Cheese) – 100 grams
Palak (Spinach) – one cup chopped
Besan (Gram flour) – 4-5 tablespoon
Salt – to taste
Garam masala powder – ½ teaspoon
Roasted cumin powder – ½ teaspoon
Raisins – 6-8
Green chili – 1 chopped finely
Ginger – ½ inch (grated)
Refined flour – 4-5 tablespoons
Oil- for frying kofta
For Gravy
Onions – 2 medium sized
Ginger – 1 inch piece
Green Cardamom - 1
Bay leaf – 1
Cashew – 7-8 pieces
Milk – ¼ cup
Salt and sugar to taste
Green Chilies – 4-5 slited
Oil – 2-3 tablespoon
Directions:
To make kofte, first heat a pan on gas and put the chopped spinach. Cover with a lid and let it cook on low flame. The spinach will release some water and will turn soft in 2-3 mintues. Remove the pan from fire and let it cool.
In the meantime, take mashed paneer and add chopped chilies, raisins, half of garam masala and cumin powder and salt to taste and mix properly. Take small portions from this mixture and prepare rounded small balls. Keep aside.
Squeeze the spinach and drain the excess water. Mix besan, garam masala, cumin powder, grated ginger and salt and make small rounded balls like paneer balls.
Take each spinach balls and then carefully flatten it by your fingers. Place one paneer ball at the centre and then fold the sides to make it a big round kofta. Rub these koftas with refined flour for better binding.
Once the Koftas are prepared, fry them in oil till they turn light brown. Keep aside.
For the gravy, make a smooth paste of onions, ginger, cardamom and cashew with little water.
Heat oil in a pan and first put the bay leaf, as it browns. Add the grounded masala paste. Saute over low heat for about 6-7 mintues or till the raw smell evades. Now add milk, green chilies, sugar and salt to taste and some water to get the required consistency of the gravy. Let the gravy simmer on low heat for about 3-4 mintues.
Before serving add the koftas and just lukewarm the gravy. Enjoy with Naan or simple chappati.