Palak Paneer Pie
An absolutely yummy combination of Spinach and Paneer (Indian Cheese) adding few Indian spices to make it spicy and healthy to eat.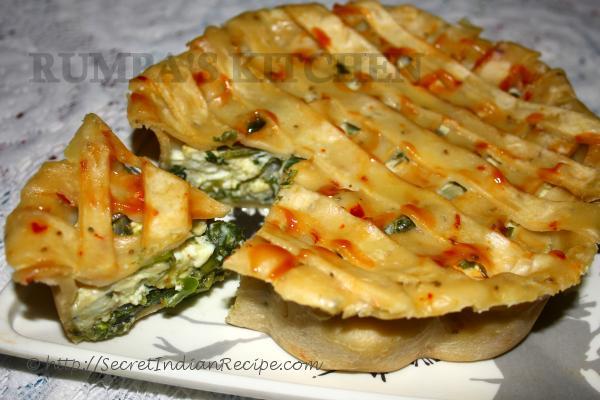 Ingredients:
All-purpose flour - 1 cup
Ajwain - ¼ tsp
Chilli flakes - ¼ tsp
Butter - 1 tsp
Paneer - 200 gms
Onions, chopped - 1 medium size
Cumin powder - ½ tsp
Coriander powder - ½ tsp
Kasuri methi powder - ¼ tsp
Garam Masala powder - ½ tsp
Spinach - ½ cup
Eggs - 2
Milk - ½ cup
Directions:
Take a mixing bowl and add all-purpose flour, salt, ajwain, chilli flakes, butter and mix it like short crust pastry method.
Add some water and mix to a soft dough and rest for 10 minutes.
Take paneer and cut into small pieces.
Heat little butter in a pan and add chopped onions, salt, nutmeg powder, cumin powder, coriander powder, kasuri methi, garam masala powder.
Add boiled and chopped spinach and mix well. Transfer this mixture into a plate.
Take a bowl, add two eggs, little salt and beat the eggs. Add milk and mix well.
Take the dough and roll it to a thin sheet.
Take the pie mould and place the sheet inside and set it.
Put the spinach and paneer mixture inside the mould and pour the milk and egg mixture over on top.
Roll the rest of the dough like a thin sheet and cut into thin strips and arrange on the top of the mould.
Bake it for 180 degree C for 30 minutes.
Cut it into pieces and serve hot.