Palak Paneer Pulav With Cauliflower Fritters
Very yummy combo. Less spicy pulav with more spicy fritters.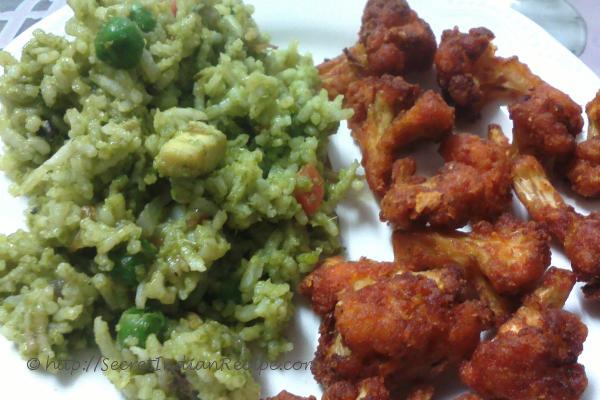 Ingredients:
2 cup cooked rice
1 cup blanched palak purey
1 cup paneer cubed
2 tbsp oil
1/2 cup grren peas
1/2 tsp cumin seeds
2-3 cloves
2-3 cinamon stick
2-3 bay leaves
2 tbsp ginger-garlic paste
2 onion chopped
1/2 cup carrot chopped
salt to taste
Directions:
Heat oil in fry pan.
Add cumin, clo e, cinemon, bay leaves, when they cracked add ginger garlic paste & onion, peas, carrot.
Saute for 5 mins. Now add paneer,palak, salt, rice...mix very well. Serve with fritters...
Blanch 2 cup florets of cauliflower .now add 2 tbsp ginger-garlic paste, 2 tbsp red chilli powder, 1 tbsp garam masala powder, 1/2 tsp turmeric, salt, 2 tbsp rice flour, 2 tbsp corn starch...mix very well and deep fry in hot oil till crisp.