Palak Paneer (spinach And Cottage Cheese Gravy)
Palak Paneer is a quintessential north Indian dish. One of our family favs too. Our family really feels that this easy yet tasty palak paneer is one of the best tasting. A recipe invented by my mom and I am sure to carry this recipe on to many more generations to come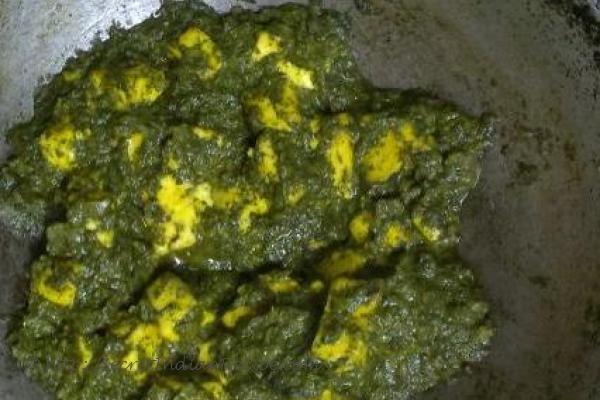 Ingredients:
Spinach leaves --- 1 bunch washed and chopped
Paneer --- 200 gms cubes
Onion --- 1 ground to paste
Tomato - --1 finely chopped
Ginger and Garlic paste --- 1 tsp
Dhana Jeera powder --- 1 tsp
Turmeric & red Chilli Powder --- 1 tsp each
Butter --- 1 tbsp
Cream - --1 tsp
Sugar - ---1/2 tsp
Salt to Taste
Garlic - ---1 clove
Oil - ---2 Tbsp
Hot water - ---3 cups
Directions:
Soak the paneer in hot water for 2 mins. If using fresh paneer you can avoid this step
Heat oil and add the onion paste, sauté till slight pink, add tomatoes mix well
Add 1/2 Tsp salt, ginger garlic paste, dhana jeera powder, red chilli and turmeric - cover and cook for 15 mins on low heat
In the meanwhile, blanch the spinach in hot water. (about 2 mins)
When the spinach cools down, grind it with 1 garlic clove in blender to smooth paste
Add this paste to the cooked onion and tomato mixture
cook on low heat for more 10-15 mins, covered.
Now add the paneer. Cook covered for 5 mins
After 5 mins, add garam masala mix well, add sugar, salt to taste, cream and butter mix well.
Cook for 1 min more and turn off the heat. Keep covered and let the paneer rest in gravy for 5 mins
Serve hot
Footnotes:
You may avoid cream or use malai or milk instead
This is quick and easy palak paneer