Palak Pooris (spinach Infused Fried Indian Flat Breads)
We don't make pooris at home, we don't have them out either. We mostly cut down fried stuff because as it is we are heavy meat eaters. But this Sunday we had guests who were vegetarians. I thought I would make crepes and frittattas but then I saw this fresh bunch of palak (the Indian spinach) and I could not resist getting them. I get ideas to cook as I shop like I pick up something and I visualise what it could be turned into. I picked up the palak and thought palak paranthas but then I thought why not pooris. Indulgence once a while won't hurt and so we made these pooris with a tangy pumpkin and potato curry. And my two recent pickles the onion pickle and carrot mango pickle graced the thali. My guests loved it and though I still see a kadai full of unused oil, I feel happy.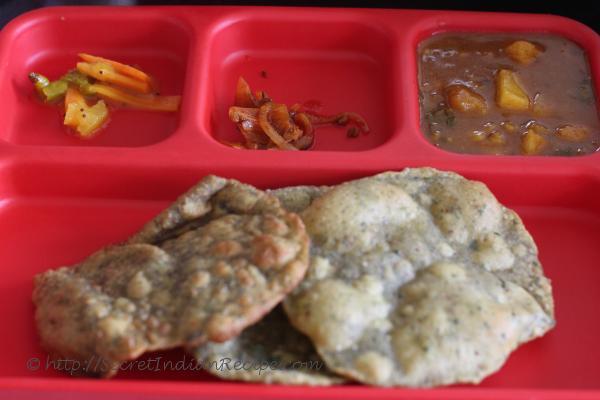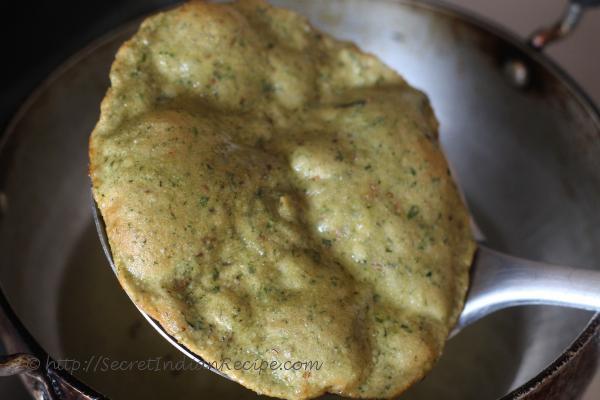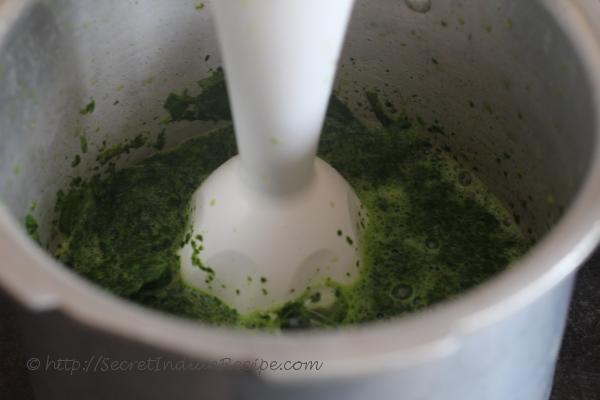 Ingredients:
Spinach- 4 bunches
Wheat flour- 3 cups
Carom seeds- 1 tsp
Water- for kneading
Salt- to taste
Oil- to fry
Green chilies- 2
Garam masala- a pinch
Turmeric powder- 1/2 tsp
Directions:
Separate the palak leaves from the stalk and blanch them. When they cool down, puree them with the green chilies.
In a bowl knead the flour with the puree, salt, water, carom seeds, turmeric powder and garam masala.
Add a tsp of oil towards the end of kneading and form pliable dough.
Heat up the oil in a deep pan. See that the oil poured is sufficient to immerse the pooris.
To roll the pooris use the back side of a steel plate. Apply a little oil on the plate and roll small balls of dough into flat disc on top of the plate.
Use a rolling pin to roll the discs and make it as flat as you can. Start frying them one by one in oil over medium flame.
Flip to other side when one side bubbles up and looks slightly reddish. Cook evenly on both side and serve with potato curry or chickpeas curry.