Palak Pyaz Ke Pakode (spinach & Onion Fritters)
Every Indian I have known loves onion pakodas. My family is no different. We love our Indian fried snacks to accompany our weekend 4 pm tea. Recently, I have developed a taste for extra crunchy pakodas. The crunch goes amazingly well with adrak tea. I experimented with various flours like besan, rice flour, corn flour and also oat meal flour to compare tastes and crunchiness. After two three variations I thought this particular four mix gives the best result for extra crunchy pakodas.
Whenever I am making any deep fried snacks a feeling of guilt takes over. To dilute this feeling, I added a bunch of spinach leaves to these onion pakodas. This healthy leafy green, not only helped calm my mind but it also tasted delish!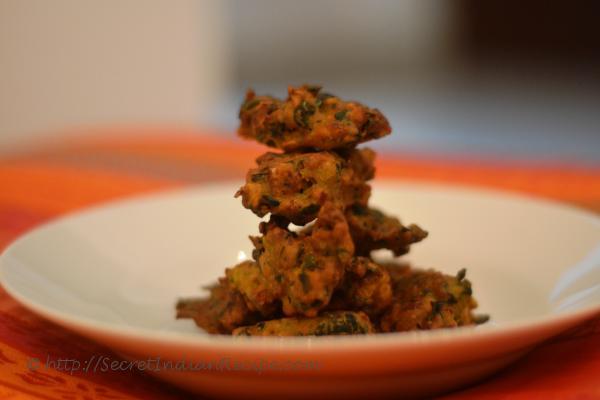 Ingredients:
Onions: 3 (Thinly Sliced)
Spinach : 1 bunch
Rice flour: 1 Cup
Besan: 1/2 Cup
Salt: to taste (About 1/2 tsp)
Green chilies: 2 finely chopped
Coriander: 2 Tbsp finely chopped (Optional)
Ajwain Seeds: 1 tsp
Kalonji / Onion Seeds: 1 tsp
Turmeric: 2 Pinches
Garlic: 2 pods crushed (Optional)
Water: As required to make batter
Oil for deep frying
Soda bi carb: 1/4th Tsp
Directions:
Clean the spinach. Remove stems and chop the leaves fine.
Blanch the spinch in hot watr for about a min or till the green leaves wither. You may opt to use the raw spinach as it is. But I prefer blanching
remove the blanched spinach on a towel and let all water we drained out completely.
In a Bowl take all the ingredients except for Oil and water Mix all ingredients well.
Use your hands and fingers to mix all ingredients exrtremely well. You will need to knead the flours, masalas and veggies such that the ingredients starts releasing water due to the salt
There may be cases where the spinach releases so much water that you may not require to add additional water
The consistency of the batter should be thick. I will be uploading the the batter photo soon which will give you an idea on how thick it needs to be
Heat the oil for deep frying. When hot, with the help of a fork start dropping small dumplings of the pakoda into the oil
Fry till the pakoda is nice golden brown. Fry the pakodas on low-med heat
Serve hot with green chutney and tea