Pan Tossed Rawa Dhokla ( Tossed Semolina Steamed Cakes)
A very light, healthy and easy to make appetizer/breakfast dish with very simple ingredients at home.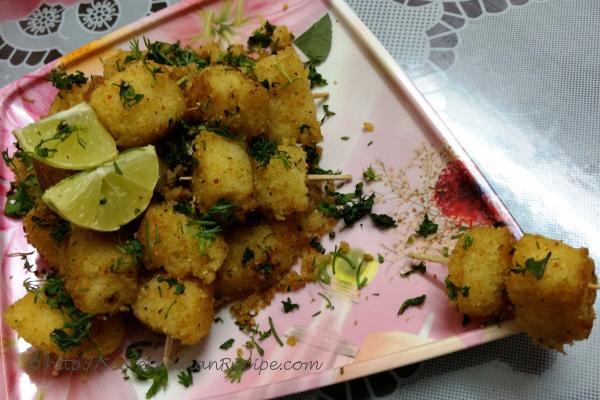 Ingredients:
Sooji/rawa/Semolina – 1 ½ cup
Curd – 1/3 cup
Heeng – a pinch
Salt – ½ tsp + as per taste
Black salt – ½ tsp
Red chilli powder – ¼ tsp + ¼ tsp
Water – 2 cup + ¼ cup + ¾ cup + 3/4 cup
Eno – 1 tsp + 1 tsp
Oil – for greasing
Mustard oil – 3 tbsp +1 tbsp
Rai/mustard seeds – ¼ tsp
Green chilli – ½ pc
Ginger (grated) – 1 inch
Coriander leaves – few
Curry leaves – 14-16 pcs
Coriander powder – 1 ½ tsp
Garam masala – 1/8 tsp
Lemon juice – 1 tsp
Directions:
1. Take sooji in a bowl, add curd, ¼ tsp red chilli powder, ½ tsp salt, black salt, heeng and 2 cup water to it and mix well. Keep it in a warm place for about an hour so that sooji is given some time to rise.
2. When batter is ready, stir and check it. Add ¼ cup of water and mix again as when sooji rises it absorbs water, so we need to bring the batter to the right consistency.
3. Now divide it in two portions. We will make it in two batches, so that each portion has sufficient amount of space to rise; so that we get a fluffy end result.
4. Take a deep cooker (I have taken 3 ltr cooker) without its whistle. It is the most important thing to remember that whistle should not be used otherwise cooker can burst.
5. Pour ¾ cup of water in the cooker.
6. Keep stand/ stands in the cooker to make a base. Let the water heat.
7. Take a steel or aluminium bowl, grease it well with oil and as soon as water starts to boil keep it on the stand in the cooker.
8. Add 1 tsp eno to half portion of the batter that is left in the bowl. Quickly mix it and while frothy rapidly pour it in the greased bowl and cover the lid (without the whistle) of the cooker.
9. Let it cook on a low flame for about 20-25 minutes.
10. After 20 minutes open the lid and prick a knife in the dhokla to check whether it is ready or not. If you find that batter is still visible, let it simmer for another 5-10 minutes. Check for the water too. If it is not there, add a little water as required.
11. Once ready take out the bowl and let it cool down for half an hour because if you try to take it out hot, it will break and won't come out clean. Once it cools down you will get a perfect cake shape.
12. Keep it aside and repeat steps 4-10 with the remaining batter.
13. Once the sooji cake is ready, cut the loaf into pieces.
14. Take a pan, add 3 tbsp of oil. Once it starts to heat up, add all the dhokla pieces in it and toss well.
15. Once it starts getting a light golden brown layer, take it out in a plate/ bowl.
16. In a pan, add 1 tbsp mustard oil, add mustard seeds and let it crackle. Further tear curry leaves with your palms and add in the pan. Immediately add ginger, green chilli, coriander powder, garam masala, ¼ tsp red chilli powder and salt as per taste (keeping in mind that salt is already there in the dhokla).
17. Cook it for 30 seconds and add our pan tossed dhokla pieces and toss well. Cook for two minutes and add coriander leaves.
18. Switch off the flame and add lemon juice to it and mix well.
19. Hot pan fried dhoklas are ready to serve and enjoy.
Footnotes:
Please note that the cooker whistle SHOULD NOT be used at all, else the cooker will explode.