Panch-amrut ( Sweet / Tangy Tamarind Chutney)
In dish is especially made in Marathi families on festivals or puja day. This is a different alternative to the usual tamarind chutney. You can keep this in the fridge for a week and can make in advance for parties. It is called Panch- Amrut because it has a base of 5 main ingredients. This can spice up any snack or meal.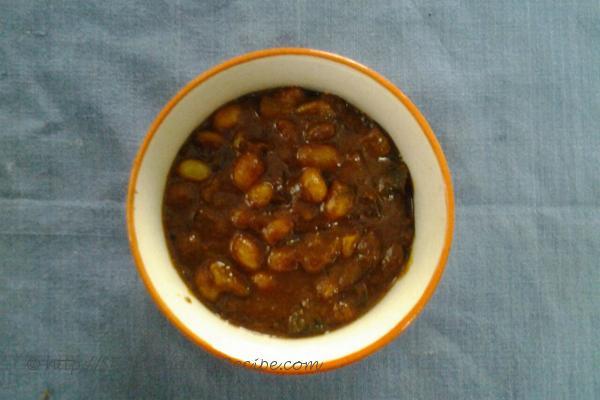 Ingredients:
Jaggery 1 cup
Tamarind pulp 3/4 cup
White Sesame seeds 1/2 cup
Peanuts 1/2 cup
Dry coconut slices 1/2 cup
Cashew nuts 1/2 cup
Raisins / Sultanas 1/4 cup
Chopped Green Chillies 5
Curry leaves 5/10
Maharashtrian Goda Masala 2 teaspoons
Salt to taste
Oil 2 tablespoons
Tampering ingredients -
Mustard seeds- 1 teaspoon
Cumin seeds- 1 teaspoon
Asafoetida - 1 teaspoon
Turmeric powder- 1 teaspoon
Red chilli powder - 1 teaspoon
Coriander & Cumin seed powder - 1 teaspoon
Directions:
Dry roast white sesame seeds and cool. Then make a fine powder in the grinder.
Soak tamarind in the hot water and make a pulp.
Heat oil in the pan and add all the tampering ingredients, green chillies and curry leaves followed by the peanuts, cashews, coconut slices and raisins or sultanas. Saute on medium low heat for 2 mins until lightly coloured.
Add 2 cups of water. Now add the sesame seed powder and Goda masala.
When the water starts boiling add Jaggery and salt. Cook it on the low flame until it is semi pouring consistency of a chutney.