Paneer Bajra Sevai
Kambu or Bajra is a millet which had been used for years in making many authentic Indian recipes. Kambu or pearl millet is a very good body coolant and most of the South Indian homes make the 'kambu koozh'
Pearl millet is rich in minerals and is a good source of protein. Bajra provides with good energy and is good for diabetics and promotes heart health. Let's make a simple yet healthy breakfast or dinner with kambu sevai.
#Diwalirecipe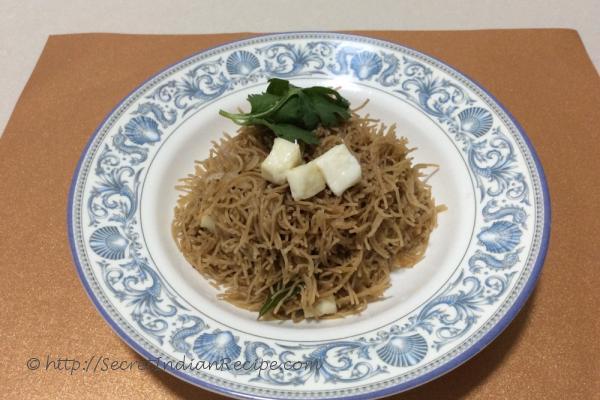 Ingredients:
Kambu sevai – 1 packet
Onion - 1
tomato - 1
curry leaves - 10
mustard seeds - 1/8 tsp
Green Chilli - 2
paneer - 50 grams
salt to taste
Directions:
Cook the kambu sevai as per the instruction in the packet (soak it for 5 mins and steam cook for about 10 mins). In a Kadai, heat some oil and add in the mustard seeds to splutter, add in the green Chili and curry leaves.
To this add the chopped onions and saute until they turn transparent. Now add in the tomatoes and saute until they become soft and cooked (add a pinch of salt to get it done quicker). Add in the steamed sevai and salt to taste and mix well.
To this add the paneer (cut into small cubes) and give it a good mix. Keep the flame in simmer and cook for another 2 mins with the lid closed for the paneer to get slightly cooked and soft.
Finally add in some chopped coriander to garnish / flavour