Paneer Bhurji Masala (crumbled Cottage Cheese In Spicy Gravy)
Paneer recipes are my saviour, when I have surprise guests in my house. This recipe of Paneer Masala bhurji was also invented in one of such occasion. It was a Friday evening and I was really tired after coming from office. I checked in my refrigerator and found two small cubes of paneer, some tomatoes and some coriander leaves. I thought, I would make Paneer Bhurji and chappati for dinner. As soon as I started preparing my dinner, my cousin Naina came over. I was thrilled as she told me she would spend the weekend with me but then I also started thinking about what to offer her for dinner. I was in no mood to go out for dinner so I did my own experiment and end up making, what I named paneer Bhurji Masala.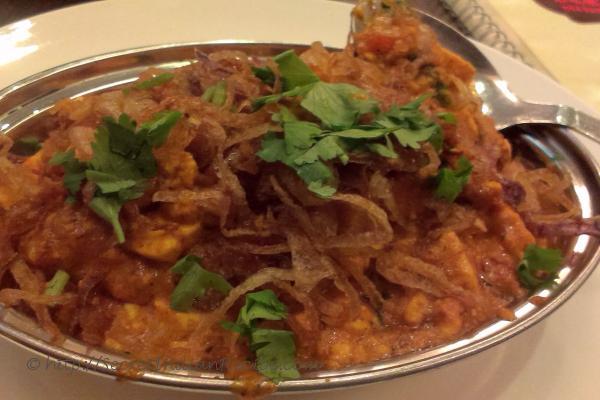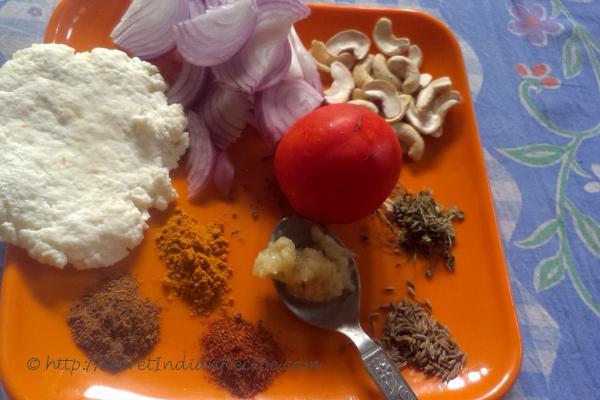 Ingredients:
Paneer (Cottage cheese) – 100 grams
Onion – 1 medium sized (Finely chopped)
Onion - 1 medium sized (For Paste)
Ginger garlic paste – 2 tablespoon
Tomato – 1 medium sized (Chopped)
Red Chilli powder – ½ tablespoon
Turmeric powder – ½ tablespoon
Garam Masala – ½ tablespoon
Cashew – 2 tablespoon
Cumin seeds
Fresh Coriander leaves – 2 tablespoon
Kasuri Methi – ½ teaspoon
Salt – To taste
Refined oil – 5 tablespoon
Directions:
Take lukewarm water in a bowl and put the paneer into the water. Keep it for 10 mintues and then take out the paneer on a plate and crumble it with your hands. Keep aside.
Heat 2 tablespoon oil in a pan and add the sliced onions. Saute the onions on medium heat, tillthey turn crispy and light brown. Take them out on a plate and keep aside.
Now add the remaining oil and heat it. Once heated add the cashew and fry till they just start turning brown…..do not let them burn so fry them on low heat. Take them out on a plate and crush or break into small pieces.
Now it is time to put cumin seeds. As it splutters, put onion and ginger garlic paste. Fry the masala for about 2-3 mintues and then add Red chilli powder, Turmeric powder and chopped tomatoes and continue to fry till the masala starts releasing oil from sides.
Then add 1/4 cup of water along with salt and kasuri methi and bring it to boil. Finally add the crumbled paneer, crushed cashew and garam masala and mix. Put a lid on and let it simmer on low heat for about 6-7 mintues.
Garnish with fried onions and green coriander leaves and serve with Naan or simple chappati.