Paneer Bhurji ( Scrambled Indian Cottage Cheese)
I thought the only bhurji I would ever have in my kitchen would be eggs. I stumbled upon this invention when I was left with some split milk one morning. Now I even crumble my paneer to make this dish. An easy recipe for stuffed paranthas, sandwiches or a simple dish with rotis.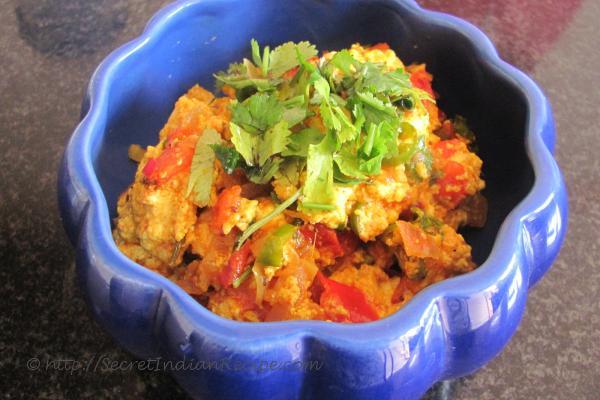 Ingredients:
Paneer- 200gm
Onion- 1
Ginger-garlic paste- 1 1/2 tsp
Green Chilies- 3
Tomatoes chopped- 3
Carom seeds- 1 pinch
Turmeric powder- 1/2 tsp
Chili powder- 1 tsp
Salt to taste
Coriander for garnish
Oil- 2 tsp
Directions:
Crumble the paneer. if you are using split milk once you strain it in a muslin cloth it will be crumbled.
Heat oil in a pan and add the carom seeds first. Saute onions thereafter till it browns.
Add green chilies and ginger garlic paste and saute for 3-4 minutes till they brown. Now add chili and turmeric powder.
Add the chopped tomatoes now and salt and let the gravy simmer for a minute or two.
Finally add the crumbled paneer and cook it for a minute or two before garnishing with coriander leaves.