Paneer Butter Masala(cottage Cheesse With Butter&tomato)
Delicious butter paneer masala is a curry recipe made with pieces of paneer mixed in a buttery sauce of tomatoes, onion paste and lots of spices. Enjoy with parathas.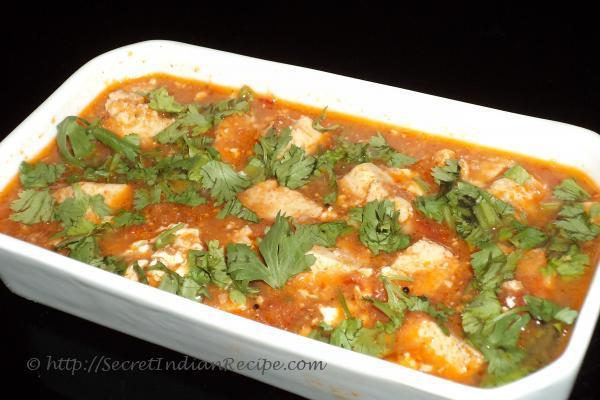 Ingredients:
Cottage cheese/tofu/paneer- 500 gm
Butter - 100 gm
Onion paste - 2 cup
Ginger-garlic paste - 1 table spoon
Tomato puree - 1/2 cup
Chili powder - 1 table spoon
Green chili - 1/2 table spoon
Garam masala - 1 tablespoon
Salt - to taste
Cream - 50 ml
Directions:
Heat 1/2 the butter in a pan, add the paneer and saute till it turns to golden brown in colour.
Remove from the flame and keep aside.
Heat the remaining butter in the same pan, add the onion paste and ginger-garlic paste,green chili, mix well and saute for 5 minutes on medium flame.
Add the chilli powder, garam masala, salt and tomato puree, mix well and cook for 5 minutes.
Add the paneer and 150 ml water, mix well and simmer for 5 minutes.
Add the cream and simmer futher for 2 minutes. Serve hot ,garnished with coriander.