Paneer Cutlet (cottage Cheese Stuffed Indian Snack)
Paneer is a versatile ingredient in Indian Kitchen like potato, you can simply stir fry it with other vegetables, cook with a variety of spices, stuff parathas and use it to make a variety of snacks. The recipe of Paneer cutlet is a snack recipe and is cooked without any onion and garlic.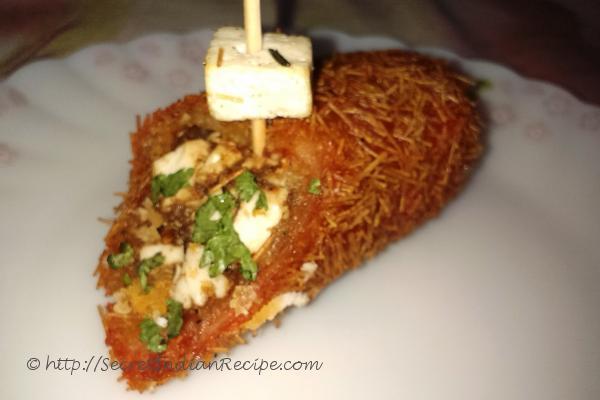 Ingredients:
(For stuffing)
Paneer (Cottage cheese) – 200 grams
Cashew paste – 1 tablespoon
Cumin powder – 1 tablespoon
Ginger and green chilli paste – 1 tablespoon
Garam masala powder – ½ tablespoon
Salt – as per your taste
Kissan tomato sauce – 2 tablespoon (No onion and garlic tomato sauce)
Coriander leaves – 2 tablespoon (Finely chopped)
(For Cutlet)
Maida (Refined flour) – 1 cup
Corn flour – 4 tablespoon
Salt – as required.
Bread crumbs – 2-3 tablespoon
Sevai (Vermicelli) – 2 tablespoon
Oil to deep fry.
Directions:
Chop the paneer into small pieces.
Heat 2-3 tablespoon of oil in a pan and sauté the paneer pieces on medium heat for few seconds. As soon as the sides start turning brown, take them out on a plate.
In the remaining oil put ginger and green chilli paste, cumin powder, garam masala and cashew paste. Fry till the masala starts releasing oil. Now add the fried paneer, salt and sugar and mix well. Paneer stuffing is ready.
For the cutlet, make a stiff dough by mixing maida, cornflour, salt and water.
Take small portions from the dough and roll out a small chappati. Place a spoon full of paneer stuffing and roll it vertically. Follow the procedure for more paneer cutlet.
Heat oil in a pan. Dust every paneer cutlet with breadcrumbs and sevai and then put in hot oil. Fry till it turns golden brown. Cut each cutlet from the center and garnish with chopped coriander leaves. Serve with tea.