Paneer Hussaini Tikka (stuffed Cottage Cheese Cooked With Indian Spices)
I am still searching the originality of this kebab since I learned it 3 years back. This mouth smacking kebab has no history what so ever. Even if has I then maybe I never came across it. This was the first kebab I learned while practicing tandoor. I even asked my ustad who taught me this but he too didn't knew the originality.
After surfing a lot on the net I came across that it is being prepared in delhi in few restaurants. Considering it was ruled by Mughals before independence I summed up that may be it too came from that time.
Nevertheless it won't matter once it goes inside your mouth because all you would want is to savor the taste.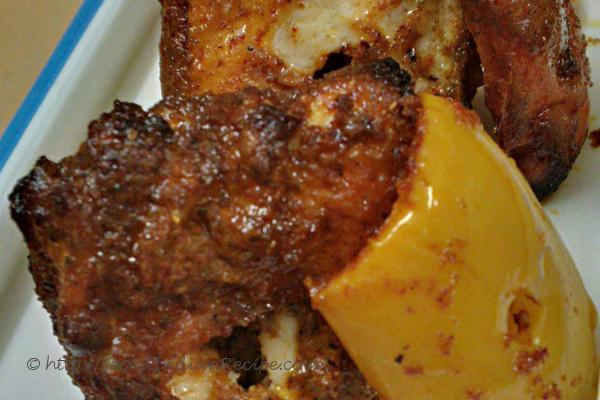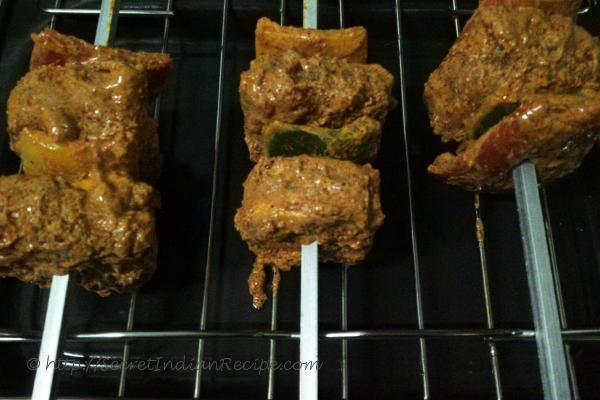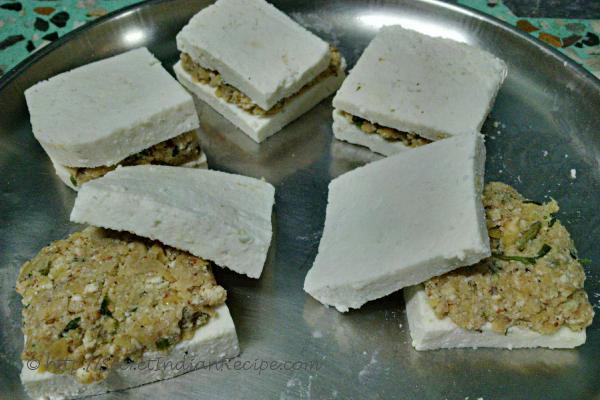 Ingredients:
Cottage cheese- 200gm
Diced Bell peppers (Red & yellow)- 2
Diced green Capsicum- 2
Oil- for deep frying
For stuffing-
Soaked Chickpea- 100gm
Finely chopped Ginger- 2tbsp
Finely chopped Green chily- 2
Chopped Coriander- 1tbsp
Roasted Cumin powder- 1tbsp
Cardamom powder- ¼ tbsp
Fennel powder- ¼ tbsp
Garam masala powder- 1tbsp
Salt- To taste
Grated cheese (processed)- 50gm
For marinating-
Hang curd- 100gm
Ginger & garlic paste- 1tbsp
Mustard oil- 100ml
Kashmiri chili powder- 2tbsp
Roasted cumin powder- 1tbsp
Coriander powder- 1tbsp
Chaat masala- 1tbsp
Garam masala powder- 1tbsp
Cardamom powder- ½ tbsp
Salt- To taste
Lemon juice- 2tbsp
Rose water- 1tbsp
Kewra water- 1tbsp
For batter-
Refined flour- 2tbsp
Corn flour- 2tbsp
Water- 100ml or as per thickness
Directions:
Cut you paneer into 2 cm cube size with 1/4 cm thickness. Keep it aside.
Boil the soaked peas until it get mashed with your fingers easily.
Heat mustard oil in a ladle making sure the temperature doesn't go beyond 50⁰C.
Pour this oil in a mixing bowl and add Kashmiri chili powder whisking continuously to avoid it getting burned.
Add hang curd and whisk it to get a smooth paste like consistency.
Then add the entire ingredient left for marinating and whisk it.
Refrigerate for 10 minutes.
Now in another mixing bowl take the boiled and drained chickpeas.
Add all the ingredients of stuffing and mash it properly with hands until all the masalas and cheese mix well with it. Keep it aside.
Prepare a smooth batter of corn and refined flour.
Now stuff the mixture in between two paneer slices.
Dip it in the batter to coat it all over the place specially the ends.
Deep fry them in oil on a high flame.
Allow it to cool for 10 minutes and then marinate it along with the bell peppers and capsicum with the marination prepared.
Refrigerate it for 10 minutes and preheat your oven at 200⁰C.
Now skewer the marinated paneer and capsicums one after another and roast it in oven for 15 minutes or until it gets a nice roasting color.
Once cooked, take it out of the skewers, sprinkle chaat masala and serve hot with mint chutney.
Footnotes:
After adding kashmiri chili powder in mustard oil whisk it until it comes to room temperature or your hang curd will curdle.
To make your own hang curd, pour the curd in a tea strainer and keep it in a bowl similar to you strainer size and refrigerate it over night.
Size of the capsicum and bell peppers will be of same size as your cottage cheese.
Use a thin skewers to avoid breaking the stuffed paneer or use your finger well from all sides while skewing them.
If you don't have oven then you can also grill them on tawa.