Paneer Jalfrezi (paneer Cooked In A Traditional Jalfrezi Method With Capsicum And Onions)
Jalfrezi cooking method was introduced in India during the British rule, where chefs quickly fried or stir fried vegetables/ paneer/ meat in tomato sauce and very few masalas. This is also a great way to use small quantities of left over vegetables and transform them into a great Jalfrezi dish.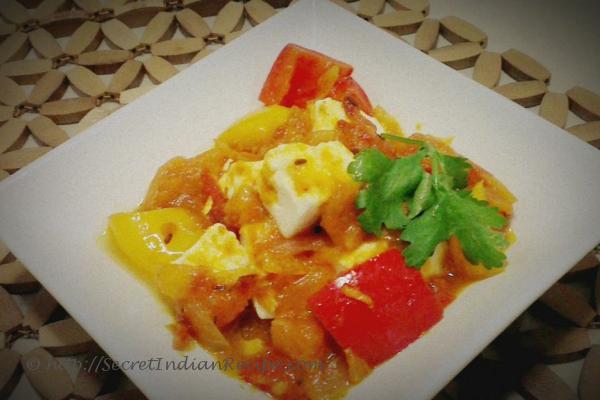 Ingredients:
200 gm Paneer
2 Tbsp oil
1 Tsp Jeera (cumin)
1 Onion Sliced or cut in half inch cubes
1 Tbsp Finely julienned Ginger
2 Green chilies slit
1/2 tsp Haldi (turmeric powder)
1 Red Capsicum chopped in half inch cubes or julienned
1 Yellow Capsicum chopped in half inch cubes or julienned
1 Green Capsicum (you may use any two colors or all three)
2 Tsp Vinegar or Lime juice
2 Tbsp tomato sauce (any bottled sauce)
1 Tomato chopped
1 tsp coriander powder
Salt to Taste
1 Tsp garam masala
1/4 tsp sugar
A little water
Fresh coriander for garnishing
Directions:
If using frozen Paneer thaw and keep aside.
In a pan or wok heat oil, when oil starts to release smoke, add jeera, onions, ginger, green chilies and give it a quick mix, add in haldi and stir in all chopped capsicum
Cook the vegetables till they are 50% cooked, the veggies need to be a bit crunchy in this dish. Add the vinegar on the pan directly and cook with the vegetables for another minute
Add the tomato sauce, chopped tomato and coriander powder, mix well and add salt, sugar. If the vegetables start sticking to the pan you may add a little water to release and mix well
Finally add the Paneer and Garam Masala give it a quick mix, cook for another minute and remove from heat
Garnish with fresh coriander and serve hot. Tastes best with hot phulkas
Footnotes:
You may use only vegetables lie carrots, cauliflower, beans etc without the paneer and cook in Jalfrezi style.