Paneer Ki Barfi (cottage Cheese Fudge)
Tastewise, this recipe is quite close to Kalakand. My Husband loves sweet dishes and he always asks for something sweet after his dinner. Buying sweets from outside is an easy option but since last few years, I have started making sweets at home. I find it cheaperand I use sugar free to control our sugar intake. This recipe is one of my Hubby's favourite. Here is the recipe for you to try.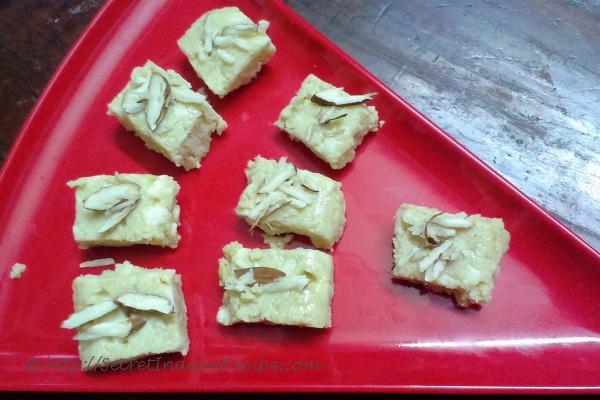 Ingredients:
Paneer (Cottage chese) - 100 grams
Milk - 1/2 cup
Khoya/ Mawa (Condensed milk ) - 50 grams
Sugar - 100 grams or as per taste
Cardamom powder - a pinch
Chopped Almonds for garnishing
Directions:
Begin with grating the paneer and mawa.
Pour the milk in a wide pan and put it on gas. Switch on the gas and let it come to first boil on high flame.
Now turn the flame low and add the grated paneer.
Continue to stir while it is being cooked on low flame.
When the quantity is reduced to half, add the grated mawa, cardamom powder and sugar.
Mix it properly to avoid lumps. Cook it till it leaves the side of the pan.
Pour the mixture on greased plate and keep in refrigerator to set .
Once cooled, cut in squares and serve.
Footnotes:
You can keep this for a week.