Paneer Korma (mashed Cottage Cheese In Creamy Gravy)
" Korma' is a recipe preparation with a creamy gravy and a faint sweet and savory taste. The preparation is essentially meant for cooking Non – Vegetarian recipes like Chicken and Mutton korma. But this Paneer korma makes a great vegetarian option. I had this recipe in one of the restaurants in 'Varanasi' few years ago and loved it, I always wanted to try it at home, and finally did so today. I searched for Paneer korma online to know the basic recipe ingredients, but I got some two three varieties of Korma recipes. One thing which was common is all was the creamy base. Some recipes looked off white due to onion and almond paste whereas some looked yellowish because of the use of Turmeric and some looked reddish due to blanched tomatoes. After reading these recipes, I tried my own version and it did taste like the one tried in Varanasi.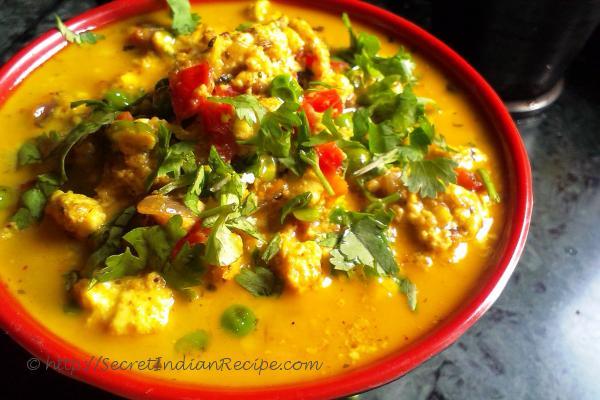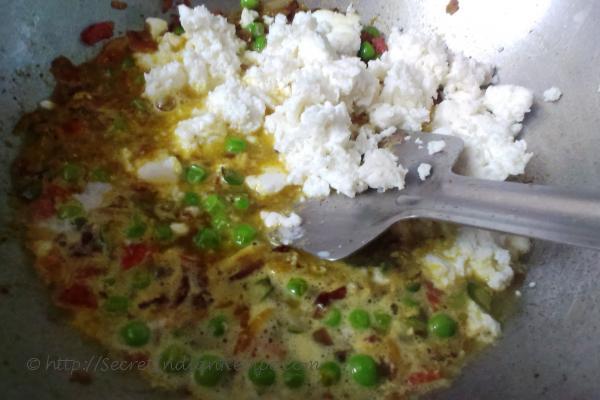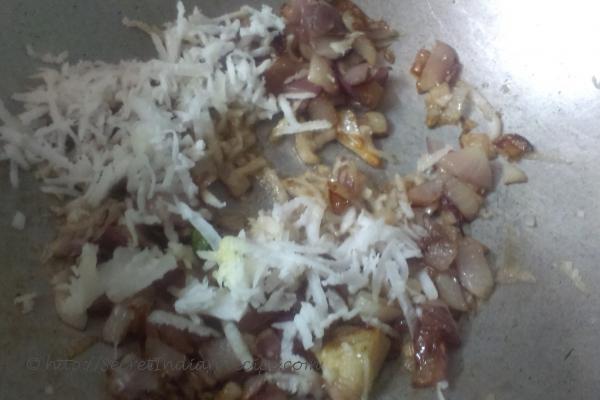 Ingredients:
Paneer (Cottage cheese) – 150 grams
Cumin seeds – ½ teaspoon
Green pea – 1/4 cup
Carrots -1 medium sized (Chopped finely)
French Beans – 5 pieces (Chopped finely)
Onion – 1 medium sized (Chopped finely)
Curd – 2- 3 tablespoon
Almond paste – 4 tablespoon
Desi Ghee – 2 tablespoon
Coconut – 3 tablespoon (Grated)
Turmeric powder – ½ teaspoon
Red chili Powder – ½ tea spoon
Coriander powder – ½ teaspoon
Cumin powder – ½ tea spoon
Poppy seeds powder – 1 teaspoon
Salt – As per taste
Sugar a pinch
Green coriander leaves – some for garnishing.
Directions:
Mash the paneer in a bowl and keep aside.
Whisk the curd with 4-5 tablespoons of water and sugar and keep aside. The curd should be fresh, full fat and should not be too sour.( For health reasons, you can use skimmed curd)
Heat ghee in a pan and add the cumin seeds for seasoning. As it pops up, add the finely chopped onions and let it brown on medium heat.
Then add grated coconut, coriander powder, cumin powder, Turmeric powder, Red chili powder nad salt and mix. Turn the flame low and sauté for a minute.
Mix the chopped vegetables, carrots, beans and pea and put a cover. Cook on low flame till the veggies turn soft. As stated before the veggies are chopped finely so that they it takes less time to cook.
As the veggies turn almost soft (this will take about 4-5 mintues), add the curd and mix. Keep the flame low. As soon as it comes to a boil, add the mashed paneer and almond paste and let it simmer for a minute.
Switch off the gas and garnish the korma with chopped coriander leaves. Serve with Chappati , Naan or Pulao.