Paneer Manchurian (cottage Cheese Manchurian)
Paneer Manchurian evolved as an Indian substitute for Chinese recipes. It is a vegetarian side dish eaten along with vegetarian fried rice or Paratha.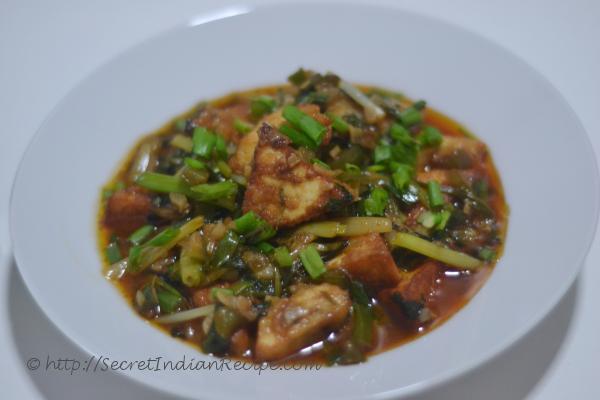 Ingredients:
Paneer / Cottage Cheese – 200 grams or 7 Ounce
Corn flour – 5 tablespoon
Maida / Fine wheat Flour - 5 Tablespoon
Aginomoto – ¼ tablespoon
Garlic Cloves – 5-6 (Chopped)
Ginger – Garlic Paste – 4 tablespoon
Soya Souce – 2 tablespoon
Green Coriander leaves – 4 strands (Chopped)
Spring onion – 4 Strands (chopped) (Optional , one can use onion also if Sping onion is not available)
Capicum – 1
Green Chillies – 2 pieces
Refined Oil – 5 Tablespoon
Salt - 1 and ½ tablespoon.
Directions:
First cut the paneer in Triangular shape and marinate it with ½ tablespoon salt and 1 tablespoon ginger-garlic paste for 10 minutes.
In another bowl take 3 tablespoon cornflour, 3 tablespoon Maida and 1 tablespoon Ginger -garlic paste and some water and make a thick paste.
Dip the marinated paneer in this paste and then Shallow fry all the paneer. Once it is done keep aside the paneer.
In the leftover oil put chopped garlic, coriander leaves, spring onion, Green chillies and capsicum and sauté for 5 mintues. Then add soya sauce, paneer and little water and cook the gravy for 10 minutes
In another bowl make a paste by adding water to the rest of cornflour, Maida, Salt and aginomotto and put in in the gravy .
Cook for another 5 minutes. Our Paneer Manchurian is ready. Garnish it with Fresh Coriander and serve with rice.
Footnotes:
You can exclude aginomoto(MSG) for an healthier version.