Paneer Paratha (cottage Cheese Stuffed In Indian Bread)
A well seasoned recipe for tiffin or breakfast.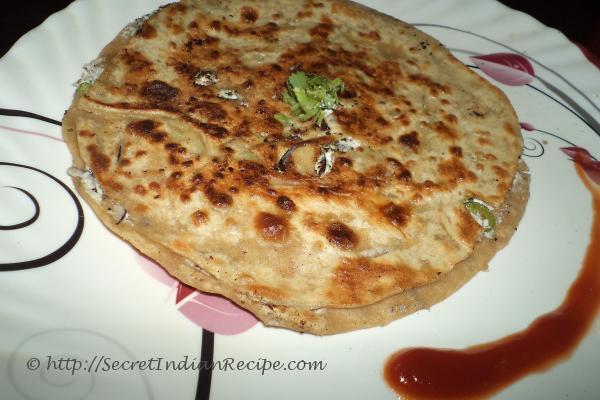 Ingredients:
for stuffing:-
Cottage cheese/tofu/paneer- 100 gm
Thin sliced onion - 1 mid size
Shreadded cabbage - 50 gm
Salt - to taste
Black pepper powder - 1/4 tablespoon
Chopped green chili - 2-3 pieces
Dried pomegranate seeds - 1/2 tablespoon
Chopped coriander leaves - 10 gm
for dough:-
Refined flour - 1 cup
whole wheat flour - 1 cup
Oil - 2 tablespoon
Directions:
for stuffing:-
In a bowl put grated paneer,salt ,onion ,coriander , chili , and other ingredients and mix them well. your stuffing is ready.
for dough:-
Combine all the ingredients and knead into a soft, smooth dough using enough water.
Divide the dough into 4 equal portions. Keep aside.
how to make:-
Roll out one portion of the dough into a circle of 75 mm. (3") diameter using whole wheat flour for rolling.
Place one portion of the stuffing in the centre of the circle. Bring together all the sides in the centre and seal tightly.
Roll out again into a square of 125 mm. (5") using whole wheat flour.
Cook on a hot pan(griddle), using a little oil, until both sides are golden brown.
repeat with the remaining dough and stuffing to make more parathas. Serve hot.