Paneer Paturi (cottage Cheese In Mustard Sauce)
Making ' Paturi' is a Bengali style of cooking which typically involves cooking or rather steaming fish or veggies in Banana wraps. The most common is ' Fish Paturi'. There are many versions of 'fish paturi ' on the net but the most common ingredient used in making Paturi is the Mustard seeds, Green chilies and Mustard oil. Some add grated coconut or coriander chutney to make it different. In My recipe I have added Kasundi (Mustard sauce) to enhance the taste. I have also substituted Banana wrap with Aluminium foils which is easily available in our kitchen. #SteamedRecipe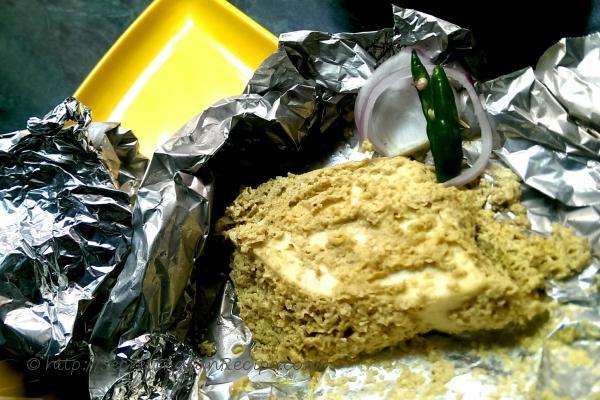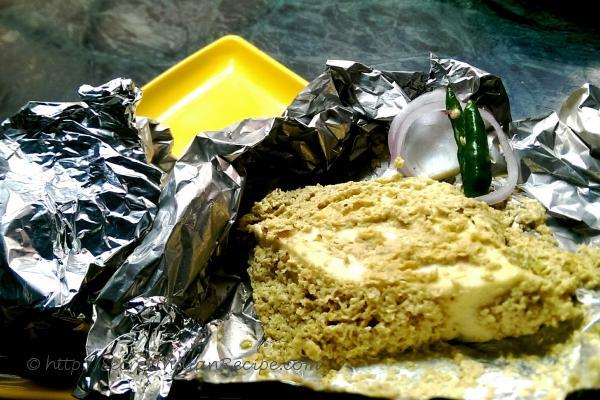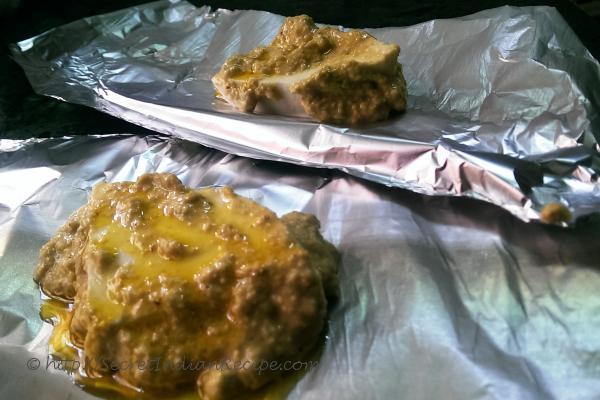 Ingredients:
Paneer (Cottage cheese) – 200 grams
Sorshe (Yellow mustard seeds – 6 tablespoons
Posto (Poppy seeds) – 3 tablespoons
Green chilies – 3-4
Garlic pods – 7-8
Kasundi (Mustard sauce) – 3 tablespoons
Salt to taste
Soshe tel (Mustard oil) – 4 tablespoons
Directions:
Cut the Paneer into 1 inch thick squares or rectangles.
Soak Mustard seeds and Poppy seeds in with 9 tablespoons or equal quantity of luke warm water for 10 mintues.
Add Garlic and green chilies with Mustard and Poppy seeds and grind into a smooth paste. The best is to use manual grinder.
Take square shape Aluminium foil and keep the pieces of Paneer in the middle.
Add Salt to taste and Kasundi in the Mustard and Poppy seeds paste. Apply this paste on the Paneer pieces. Be generous in keeping the masala as the Paneer is bland in taste and it is this masala which will create the magic. Pour some Mustard oil over each paneer pieces for that extra pungent taste.
Carefully wrap the paneer pieces along with Mustard masala into squares.
Heat a steaming pan or an idly maker and place the Paneer wrapped foils over it. Steam for 20 mintues.
Unwrap and serve hot as appetizer or with steamed rice.