Paneer Recipe For Vrat / Upwas (cottage Cheese Recipe Prepared During Fasting)
Paneer Fingers is a snack that can be made during fasting. Usually in every Indian Family, some family member fasts at least once a week. This recipe is perfect for the entire family. It can be served with tea and it is a good way to make your children eat paneer.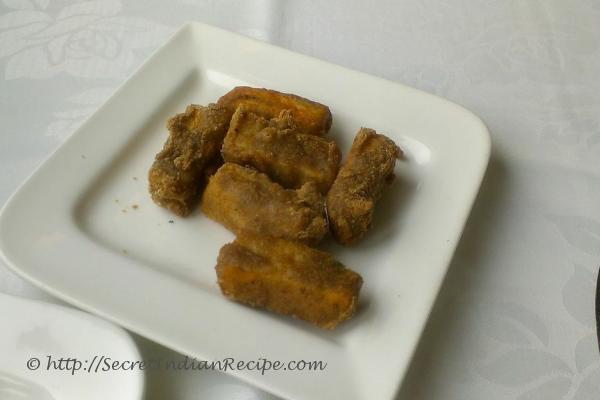 Ingredients:
Paneer ( Cottage Cheese) - 200 grams
Singhare ka atta ( chestnut flour) - 1/4 cup
Green coriander leaves paste - 2 tablespoon
Green chilli paste - 1 tablespoon
Sendha namak ( fasting salt ) 1/4 tablespoon
Oil for frying
Directions:
Cut paneer into thin strips
Make a batter of coriander paste, green chilli paste and half of sendha namak.
Make another batter of singhare ka atta and sendha namak.
Heat oil in a frying pan. Dip each paneer strip first into coriander and chilli batter and then singhare atta batter and put in oil.
Fry till it turns golden brown on each side
Serve Hot
Footnotes:
The coriander batter and singhare ka atta batter should not be watery. The batters thick so that it covers and sticks to the cottage cheese well.
Sendha Namak is also known as rock salt and can be easily found in any Indian grocery store
Singhare ka atta is also a common ingredient in India, major grocery stores carry this atta