Paneer Takatak (indian Cottage Cheese In A Jiffy)
I had never heard of this recipe until I was told about this by a client who wanted this recipe made for a party. I was worried why this dish was insisted over many options of paneer that were popular. And the client told me he had this in Punjab a year ago and it tasted wonderful. I spoke to a friend of mine and he gave me a recipe and I also referred to Nita Mehta's recipe. But I did a cross between both. The client was still hung on his version from Punjab but he didn't mind my version for the party. But I loved this recipe so much I use the same to make aaloo takatak and veg takatak.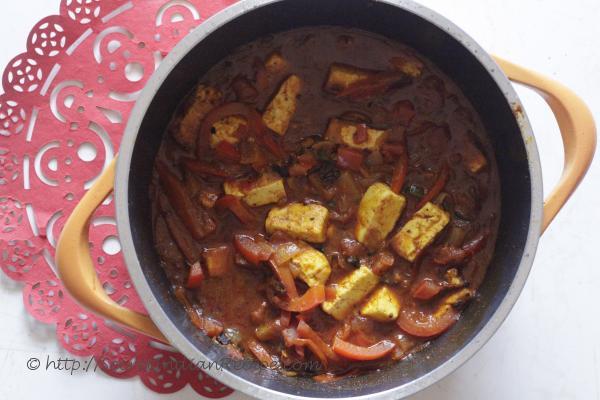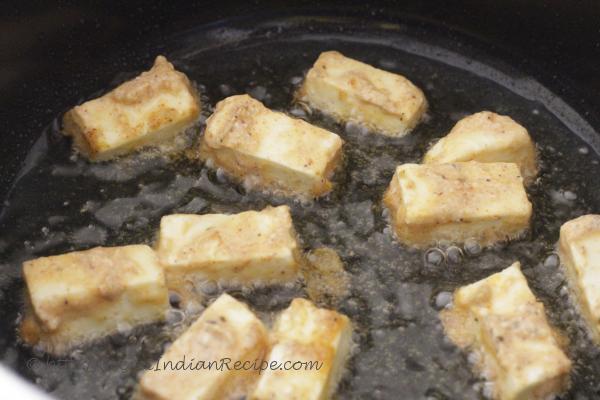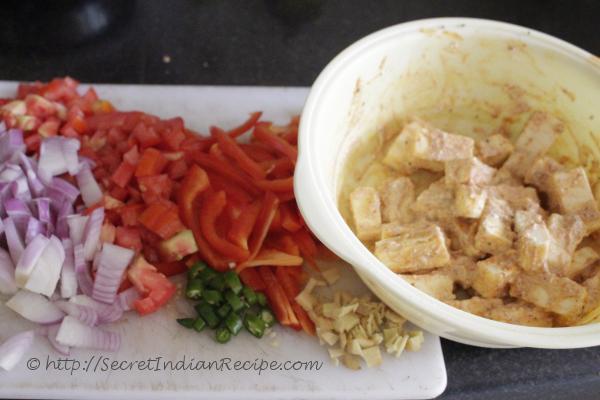 Ingredients:
Paneer-300 g
Onions-2
Tomatoes- 2
Green Chilies- 4
Ginger- 1 inch long piece
Turmeric powder- 1/2 tsp
Chili powder- 1 tsp
Garam masala- 1/2 tsp
Kashmiri chili powder- 1 tsp
Hung curd- 4 tbsp
Chaat masala- 1 tsp
Gram flour- 2 tsp
Salt- to taste
Ketchup- 2 tbsp
Oil- 2 tbsp+ 3 tbsp for frying
Carom seeds- a pinch
Red bell pepper- 1
Directions:
Prepare a marinade with hung curd, salt, chaat masala, garam masala and Kashmiri chili powder. Add gram flour to the marinade and drop in the paneer as a slab.
Marinate the paneer for 30 minutes and then shallow fry till the paneer is cooked both sides. Cut the paneer into cubes when its cool.
Heat a wok and add 2 tbsp oil, add the carom seeds to the oil first and let it splutter.
Add chopped onions and bell pepper to the carom seeds and saute till they wilt. Add chopped tomatoes and ginger thereafter.
Saute for 2 minutes before adding the turmeric, salt and chili powder. Add ketchup after 2 minutes of roasting the spices.
Now you can either cut up the paneer into cubes and set it in a platter and pour the gravy on top with some chopped green chilies and julienned ginger for garnish.
This is a nice method if you like serving this dish as a starter. The other option is cooking the paneer in the gravy for 2-3 minutes and serving it as a semi- dry gravy dish.
Serve with rotis or have it just like a starter.
Footnotes:
Adding ketchup is not mandatory, I do it for the gravy. The images in this recipe are that of semi-dry gravy dish and not the starter.