Paneer Tikka
The most popular starter now in your kitchen!!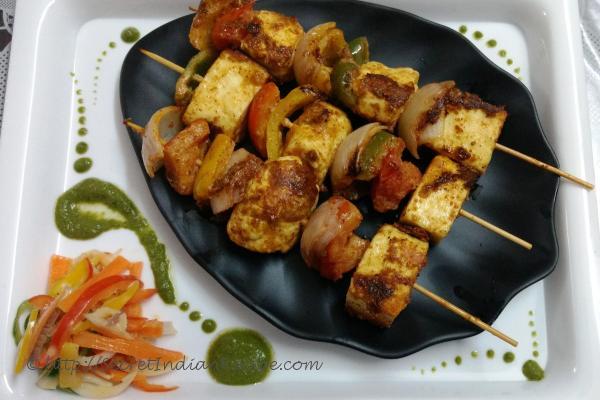 Ingredients:
1. Paneer cubes – 250 gm
2. Bell peppers (red, yellow and green)- 5-6 square pieces each
3. Pineapple - cut into square pieces - 2 slice (optional)
4. Tomato (medium) - cut into square pieces - 1 pc
5. Onion - cut into square pieces – ½ pc
6. Thick Curd – ½ cup
7. Tikka masala – 2 tbsp
8. Red chilli powder – ¼ Tsp
9. Black pepper powder – 1/8 Tsp
10. Coriander powder – ¼ Tsp
11. Ginger garlic paste – 1 Tbsp
12. Lemon juice – ½ Tbsp
13. Salt – to taste
14. Oil – 1.5 tbsp + 2 tbsp
15. Honey – 1 Tsp
16. Roasted Cumin powder – ½ Tsp
17. Bamboo kebab skewers
INGREDIENTS for Salad:-
•Bell peppers (red, yellow and green), onion, carrot juliennes – ½ cup
•Honey Mustard Dressing - 1 tsp
•Chipotle Southwest Dressing – ½ tsp
•Black pepper powder – a pinch
•Salt – to taste
Directions:
1. Take curd in a bowl, and add oil, ginger garlic paste, paneer tikka masala, red chilli powder, black pepper powder, coriander powder, lemon juice, salt, honey and roasted cumin powder to it.
2. Mix everything well to make a smooth paste.
3. To the paste, add paneer cubes, bell pepper pieces, tomato and onion pieces, and mix gently so that the pieces are well coated with the paste.
4. Cover the bowl, and place it in refrigerator for 45-60 minutes.
5. Once it is well marinated, take out the bowl, stir everything once, and arrange the pieces on skewers (One can also use toothpicks in place of skewers).
6. Take 2-3 Tbsp of oil in a non stick pan, place the skewers, and cook the sticks from all sides until the pieces turn golden brown.
7. Plate them hot, and enjoy with green chutney and crunchy salad.
FOR THE SALAD:- Mix all the salad ingredients in a bowl and salad is ready.
Footnotes:
The preparation time is inclusive of the marination time.
Tips:- 1.You can use any dressing of your choice in the salad, keeping in mind that it goes well along with the main dish. 2.Make green/coriander chutney using curd instead of water; it will taste great with paneer tikka.