Panjiri (wheat Flour Churma)
"Panjiri" is the classic Prasad served during "Satnarayan puja". It is a yummy sweet dessert, known for its amazing taste. It is made from whole-wheat flour fried in sugar and ghee. It is normally given to nursing mothers. It is quite nutritious and healthy too.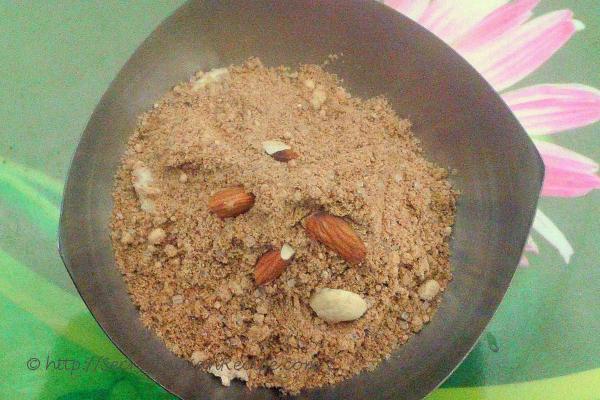 Ingredients:
Wheat Flour - 1/2 cup
Ghee - 4 teaspoon
Sugar - 4-5 teaspoon
Almonds - 10 pieces (Chopped, sliced)
Chironji (Charoli) - 2 teaspoon
Cardamom Powder - 2 pinch
Raisin -4-5 teaspoon (Chopped)
Dry Coconut – 2 teaspoon (Grated/optional)
Directions:
Heat 1 tablespoon ghee in a pan and roast chopped dry fruits till light brown and keep aside.
Now heat the remaining ghee in pan and put the flour in it, fry it by stirring continuously on a low heat till it becomes golden brown color.
Add roasted nuts, cardamom powder, sugar, dry coconut and fry for about 4-5 minutes more on low flame. Switch off the flame and let it to cool.
Yummy Panjiri is ready.