Papad Pakora (papad Fritters)
Indian Cuisine is very diverse and this is best reflected in snacks. In Indian Weddings also snack is more important than meal. You may be surprised to know that in most of the Indian weddings people eat snacks more than the meal…..One reason may be that snack are usually light and give you variety of tastes. Papad pakora is one such snack recipe. It can be made easily when you have surprise guests in your house…..and it is different.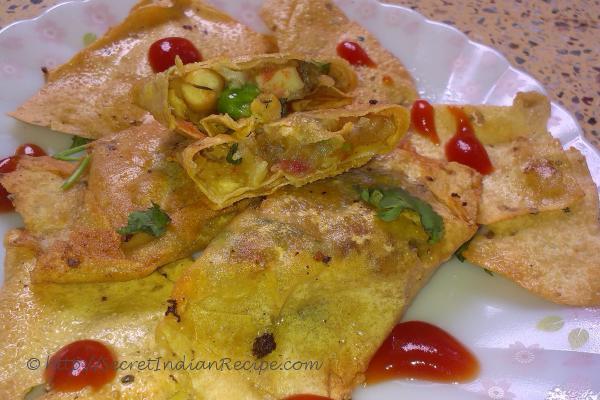 Ingredients:
Papad – 4 pieces
Boiled potatoes – 5 small sized
Green Pea -1/4 bowl
Green chillies – 2-3 pieces (Chopped)
Tomato – 1 piece (Chopped)
Onion – 1 small sized (Chopped)
Peanut – 3-4 tablespoon
Raw coconut – 3-4 tablespoon (Chopped)
Salt – As per your taste
Oil – For frying
Directions:
Peel off the boiled Potatoes and mash them in a bowl.
Heat 2-3 tablespoon of oil in a pan. Add chopped onions and fry till it becomes translucent.
Now add tomatoes, green chillies, green pea and mashed potatoes and fry for 5-6 mintues over medium heat…...while frying make sure that the pea is done (You can just blanch the pea before for quick process).
Finally add the chopped coconut, peanuts, green coriander leaves and salt to taste and mix. Keep sautéing for another 2-3 mintues to ensure all the ingredients are mixed properly.
Keep a bowl of water ready. Take a piece of papad and cut in into half. Take the one half piece of Papad on your palm and spread some water to make it moist.
Now put a tablespoon of stuffing at the centre of the papad and then close the ends….if needed apply some more water at the ends to stick. Follow the procedure to make rest of the Papad Pakoras.
Pour oil for frying in a pan and switch on the gas. Gently put the Papad pakoras in batches and fry till they turn golden brown.
Serve it hot with tomato ketchup or with evening tea.