Papadi Chaat
Papadi chaat is a vegetarian snack. It does not require any previous planning if you have papadi (Thin Refined Flour wafers) at home. Papadi is easily available in the market. You can make papadi at home also by refined flour.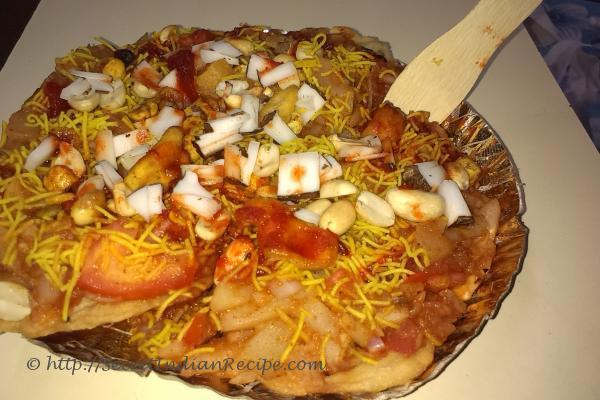 Ingredients:
Papadi – 10 pieces
Boiled Potato – 1 piece (sliced)
Onion - 2 tablespoon (chopped)
Tomato – 1 piece (sliced)
Tomato ketchup – 2 tablespoon
Green chili – 1 piece (chopped)
Coconut - 2 tablespoon (chopped)
Peanuts – 2 tablespoon
Sev bhujia - 2 tablespoonjia -
Chaat masala – ¼ tablespoon
Directions:
Take a serving plate and lay a layer of papadi.
On the top of papadi spread sliced potatoes, onion, green chilli and tomatoes.
Now lay tomato ketchup on the top of the veggies.
Sprinkle chaat masala, sev bhujia peanuts and coconut on the top and serve immediately.
Footnotes:
To make Papadi at home make a dough by mixing 1 cup of refined flour, 4 tablespoon of oil, 1/2 tablespoon of salt and required amount of water. Then roll small papadi ( thin wafers) and fry in oil.