Papda Ki Sabji (chickpeas Flour Pancake With Gravy)
A very common trait found in all mothers of the world is to feed her babies so that it get all nutrients require for a good health. My mother isn't a different one. Since childhood she was obsessed of feeding me irrespective of how healthy I have gone now.
Her obsession of feeding me had made her try new things from a long time. Here it is, one more dish from my mother's inventory. Papda is very similar to what we say is chilla. The difference is that we don't add any thing in the batter except salt. A good snack time or a breakfast commonly eaten in Patna.
This one goes for all mothers whose love cannot be measured in terms of any unit ever invented.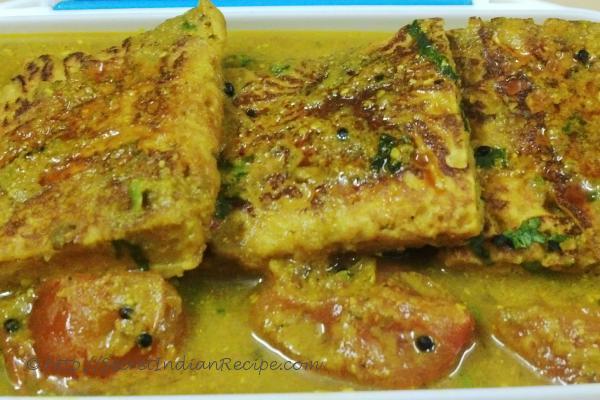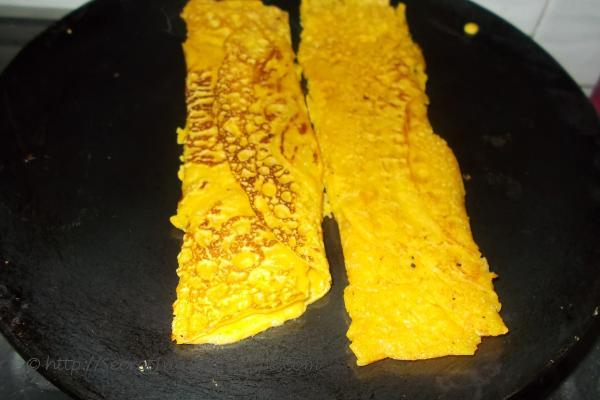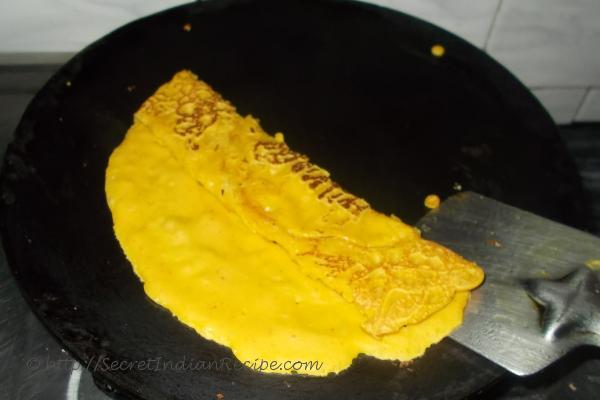 Ingredients:
For papda batter-
Besan- 200gm
Salt – To taste
Red chilli powder- 1/2tbsp
Turmeric powder- 1/2tbsp
Garam masala powder- 1/2tbsp
Water- 1 & ½ cups
For gravy-
Oil- 100ml
Mustard seeds-1 tbsp
Poppy seeds-1tbsp
Coriander seeds-1tbsp
Black pepper-1/2tbsp
Garlic- 5 cloves
Red chili whole- 2
Salt- To taste
Chopped tomatoes- 1
Fenugreek- ½ tbsp
Water- 2cups
Chopped coriander leaves-1tbsp
Garam masala powder-a pinch
Directions:
Make a smooth batter with all the ingredients required for papda.
Now heat a non-stick pan and spread it over the pan just like how you spread dosa batter.
Make sure it's not too thin or thick.
Fold the pancake in half and then further one fold as shown in image three.
Cut it in desired shape and keep it aside.
For gravy make a smooth paste with mustard seeds, poppy seeds, black pepper, coriander seeds, garlic, red chilli and salt. Keep it aside.
Heat oil in a kadai and add fenugreek seeds until it crackles.
Now add the paste and stir continuously until the water is evaporated on low flame.
Add chopped tomatoes and cook further for another 5 minutes or until the tomatoes is cooked completely.
Add water, chopped coriander, garam masala powder and allow it to boil.
Now dip the papda into the gravy and let cook for another 2 minutes.
Serve hot with steamed rice.
Footnotes:
Make sure the papda size is not too thin or thick or else it will break while folding.