Paper Plain Dosa (karnataka Cuisine)
Paper plain dosa are a traditional breakfast in South India made from a batter consisting of fermented urad dal and rice. It is crispy and a healthy breakfast , savoured with sambhar and coconut chutney. This is my recipe of how I prepare it.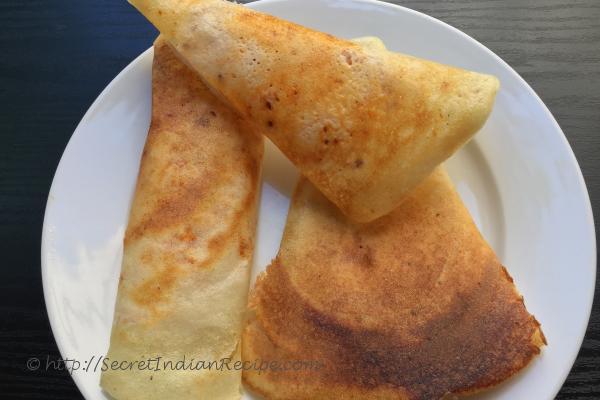 Ingredients:
1 cups Rice - preferably par boiled or sona masoori
1/4 cup Poha(beaten rice)
1/2 cup split and husked dhuli Urad(split and skinless black gram lentil)
1/4 tsp fenugreek or methi seeds
Salt as per taste
Cooking Oil for frying the dosa(as required)
Directions:
Mix rice and poha and wash and clean it with water. Soak it in enough water overnight for 5-6 hours. Add methi dana into the urad dal and wash, clean and soak it in another container overnight for 5-6 hours.
Drain the soaked urad dal. Don't throw away the water used for soaking the urad dal. This water will be used for grinding the urad dal and the rice separately. Grind the urad dal along with methi dana in a mixer/blender to a fine smooth paste with very little water used for soaking the lentils. Take it out in a big container. Drain the soaked rice along with poha and grind it into a smooth paste using very little water used for soaking the lentils. Mix the two ground ingredients and add salt.Cover the container with a lid and let it rest stand still in a warm place to ferment to a spongy batter for 4-6 hours. When the batter is fermented, stir and mix the batter so as to form a smooth mixture.
To make paper plain dosa or topi dosa, add water into the batter so that the consistency of the batter is thick yet flowing. Heat a non stick pan on medium high heat. When the pan is hot, rub the pan with a wet kitchen paper towel to lower the temperature of the pan. Reduce heat and pour ladle full of batter on the pan.
Spread the batter in circular shape in one direction to as thin pancake as possible using the back of the ladle. Increase the heat to medium and let the dosa cook for two minutes. Drizzle some oil along the sides and in the center and continue to cook the dosa till it becomes crisp on the edges and turns golden brown. Fold the dosa in the shape of a triangle or roll it in the form of a cone or as a log or any desired shape.
Serve the dosa hot with coconut chutney and sambhar.