Pappada Vada (pappadam/papad/ Wafer Fritters)
Pappada vada is a very popular teatime snack throughout Kerala. Although you can buy it from shops but it can also be easily made at home. Try this simple recipe and you will love it.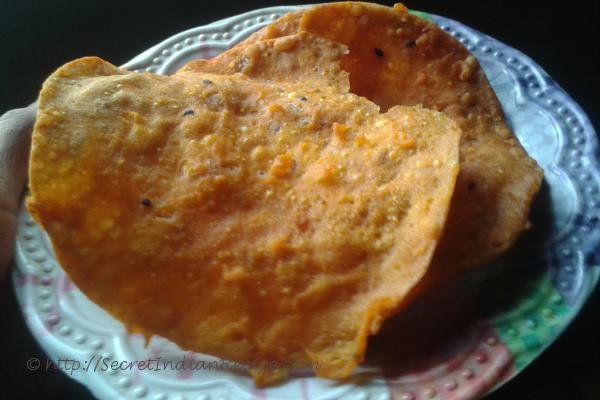 Ingredients:
Pappadam/pappad/wafers-15nos
Rice flour-1 cup
Chilli powder-1 teaspoon
Turmeric powder-1 pinch
Black sesame seeds-1 teaspoon
Cumin seeds-1 teaspoon
Asafoetida powder-1 pinch
Salt- as you need
Water-3/4 cup
Oil-to deep fry
Directions:
First dry the pappadams in the sun for about 15 to 20 minutes.
In a bowl, add rice flour, turmeric powder, chilli powder and water to make a loose batter and mix well.
To the above batter, add salt, cumin seeds, black sesame seeds, asafoetida powder and stir well to blend everything well.
Switch on the stove and place a pan on the stove.
Add oil into the pan and heat it.
Take one pappadam and dip in the batter.
Please make sure that adequate batter is on both the sides.
Please remove excess batter from the pappadam. So that it will cook well.
Place the pappadam in the preheated oil.
The flame should be from low to medium.
Fry till the pappadams turns crispy.
Turn the other side frequently.
Fry till both the sides get a golden brown color.
Repeat the process for all the pappadams.
This can be either served hot with tea or can be stored in a container.
Footnotes:
This can be used as curry recipe also.
Pappadam is known as papad in north India, appalam in Tamil nadu, appadam in telugu and pappadam in the rest of south India.