Pappadam Mezhukku Puratti (papad Stir Fry)
Pappadam is a very simple and taste dish in Kerala. It is the most important dish in sadhyas. It is also known as appalam.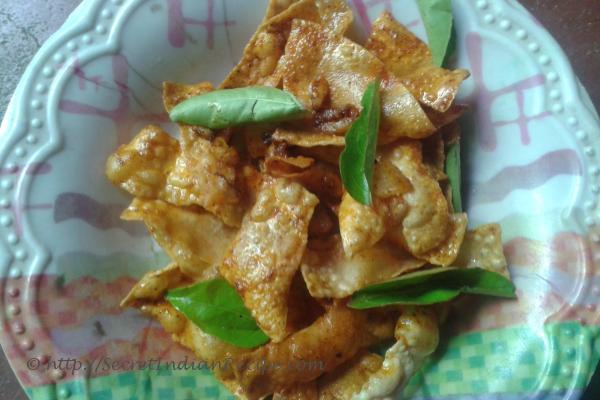 Ingredients:
Pappadam or appalam -10 nos.
Chilli powder - 1teaspoon
Small onion Chopped -2 nos.
Oil -10 tablespoon
Curry leaves-1 sprig
Directions:
First tear the pappadam into small pieces.
Place a pan on the stove and switch on the stove.
Pour oil into the pan and fry the pappadams.
When the pappadam got fried remove it.
To the same oil put chopped onion and curry leaves and fry it till it reaches golden brown.
Remove from flame and add chilli powder to it.
Mix the pappadams to it and serve hot.
Footnotes:
It can be prepared and if stored in an airtight container can be used for 2 or 3 days.