Pappanga Mezhukupurati (raw Papaya Stir Fry)
I love papaya in every form raw, ripe, as a juice or a vegetable. This is one plant we do not bother planting in our garden thanks to our ear friends the birds around we find saplings of papaya growing out of nowhere all the while. Papaya is rich in vitamin E which means it improves your skin and balances your hormonal cycles as well. And I guess for these reasons and because it is one of the most economical fruit you will find them in hostel messes, fruit shops and mixed fruit products. This is a quick and easy stir fry for people who are in a rush for a quick fix dinner.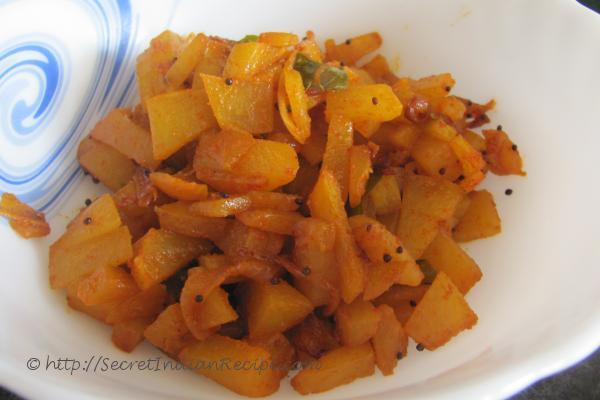 Ingredients:
Raw papaya- 1
Shallots- 10 pods
Garlic- 8- 10 pods
Turmeric powder- 1 tsp
Crushed chili flakes- 1 tsp
Curry leaves- 1 sprig
Salt- to taste
Coconut oil- 2 tbsp
Mustard seeds- 1tsp
Directions:
Peel and chop the papaya into fine slices.
Crush the shallots and garlic in a mortar and pestle.
Heat oil in a pan and add the mustard seeds to splutter. Add the curry leaves followed by the crushed shallots and garlic.
Saute till the garlic and shallots turn brown. Now add the turmeric and chili flakes.
Saute for 5- 8 minutes and add the papaya followed by salt. Cover with a lid and set the flame low.
Cook the papaya without adding water till it is cooked. Keep stirring occasionally and cover and cook with the lid on.
When the papaya is cooked take it off the flame.