Papri And Gughni (indian Nachos With Dried Peas Curry)
Papri and Gughni are usually eaten in north and eastern parts of India as breakfast or evening snack. Papri is basically made of refined flour and is similar to Nachos. Gughni is gravy made from boiled dried peas.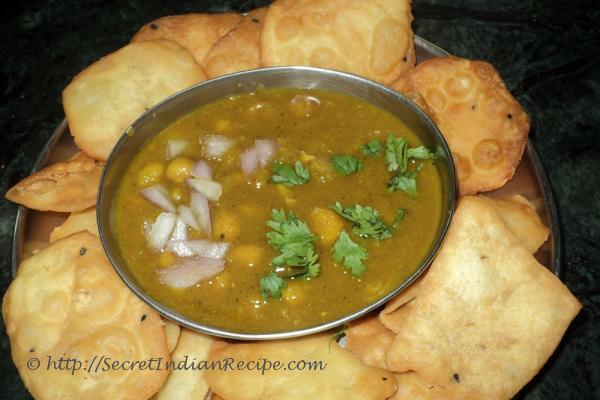 Ingredients:
*For Papri
Maida (refined flour) 200 grams (7 ounce)
Refined Oil 5 tablespoon
Salt 1 tablespoon
Kallonji (Nigella seeds) ½ tablespoon
Water 1/2 cup
*For Gughni
Matar (dried peas) 200 grams(3.5 ounce)
Onion 1 piece
Bay leaves 2 pieces
Ginger – garlic paste 2 tablespoon
Turmeric powder 1/2 tablespoon
Cumin powder 1 tablespoon
Coriander powder 1 tablespoon
Black papper powder ½ tablespoon
Sabzi masala 1 tablespoon
Garam Masala powder ½ tablespoon
Red chilli powder ½ tablespoon
Coriander leaves 1 table spoon (finely chopped)
Onion 1 tablespoon finely chopped
Mustard Oil 4 tablespoon
Water 1 cup
Directions:
For Papri, take refined flour, salt, 2 tablespoon of refined oil and nigella seeds and mix them altogether. Add water and make dough.
Make round chappatis by using 'Chawka and Belan'( rolling spin) and then take a knife and cut small papries (either triangular or rectangular)over it.
Take out the papries and shallow fry them over low flame till they turn light brown. Papries are ready to be served. Keep them in airtight containers otherwise it will get soggy.
To make Gughni, put mustard oil in a karahi and add bay leaves. Once it starts popping add onion and fry till it become golden brown.
Afterwards add ginger- garlic paste and sauté a bit. Then add cumin powder, coriander powder, turmeric powder, blackpepper powder, sabzi masala, garam masala and salt and fry till the masala starts leaving the oil.
Add the whole matar and water and pressure cook for 15 mintues. Check if the matar is done . Garnish with raw onion and coriander leaves and serve with Papri.
Footnotes:
Gughni can be served with bread also: the way it is served in Bengal.