Parasta Gaja(phheni)
A delicious layered sweet fritter.... One among the *chappan bhog* offered everyday to Lord Jagannath at Puri. A perfect treat for festivities. Hope you enjoy this #HoliRecipe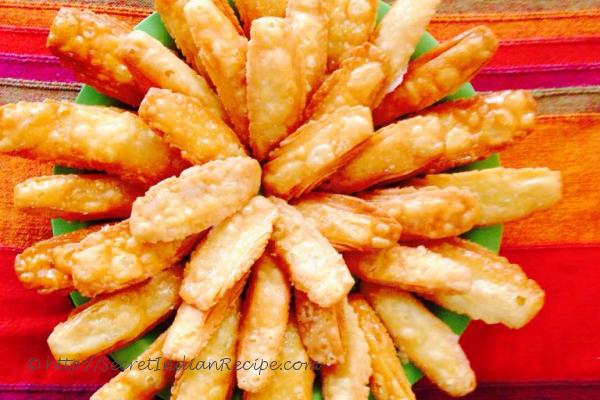 Ingredients:
For Dough:
All purpose flour--2cups
Ghee--1/4th cup
Salt--2 pinches
Oil--enough to deep fry
For Greasing:
Ghee--2 tbsp
All purpose Flour--4 tbsp
For Sugar Syrup:
Sugar--1 cup
Water--1 cup
Cardamom powder--1tsp
Directions:
In a bowl, add salt, warm ghee and flour. Rub the ghee into the flour for about 2 minutes.
When this resembles loose breadcrumbs, and holds together a little, add water and knead into a hard dough. Let it rest for 20 minutes. Make a paste out of the ghee and flour to create the grease.
Once rested, flatten out the dough on a floured surface, thickness should be of a thick roti. Spread the grease on the roti.
From one end of the roti, start rolling it into a log. This will create layers. Make sure that log is tight.
Cut off small pieces of the log(like a Swiss roll). Press each piece down, and roll out lightly.
Heat oil at a medium heat. Fry Khajas at a low flame, to ensure they turn golden and crispy. Take them out and drain.
In a pan heat the water and sugar along with the cardamom powder. Boil the syrup until it has a one-string consistency.
Coat each khaja in the syrup. Set aside and let it cool down.