Parval Mithai (snake Gourd Stuffed Dessert)
Parval Mithai is a Sweets dish recipe usually made during Holi in Bihar. Holi signals onset of spring and with spring, you get new vegetables in the market like snake gourd, ladys finger and Jackfruit.
Snake gourd takes the place of the winter vegetable king cauliflower and sometimes you start repenting because you are eating Parval everyday.
Although Parval is quite a versatile vegetable and you can make lot of different preparations like stir fries to curries, but using Parval in making sweets is a speciality in Bihar. Choose the tender big sized parvels for this recipe. Here is my special Parval Mithai recipe for you all.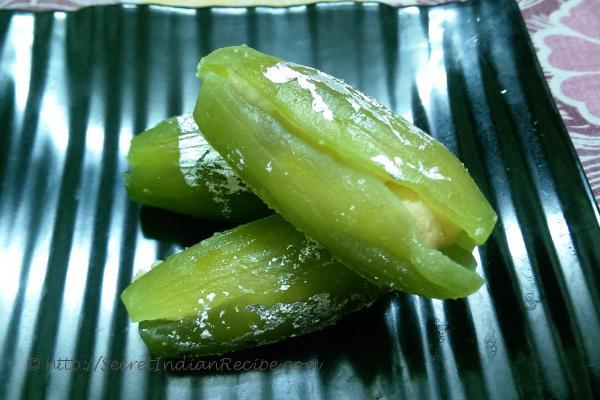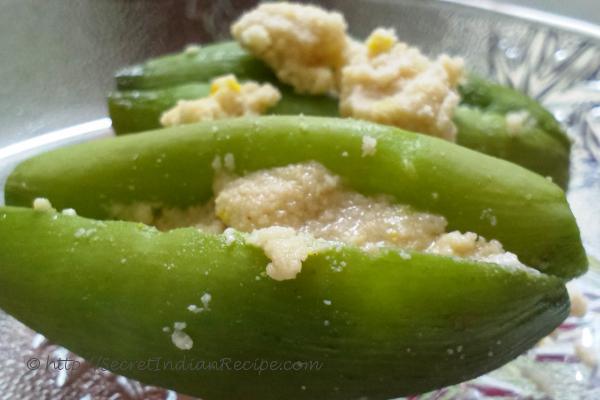 Ingredients:
Parval (Snake gourd) – 250 grams
Mawa (dry condensed milk) – 1 cup
Sugar – 1 and ½ cup
Cardamom powder – a pinch
Rose water – few drops
Chopped Almonds and Pistachio – 2 tablespoon chopped (optional)
Directions:
Peel the outer surface of the parvel and chop off the ends.
Make a slit from one side and take out the inner flesh to make space for stuffing.
Afterwards boil these parvals in boiling water for 6-7 mintues or till they are almost done. Simultaneously make a sugar syrup by boiling 1 cup of water in 2 cups of water.
When the parvels are almost cooked in the boiling water. Take them out carefully and put in sugar syrup for further cooking. Add rose water at this stage to impart a sweet smell in the parvals.
After cooking for 5 more mintues in sugar syrup, switch off the gas and let it cool.
To make the stuffing heat the mawa in a pan along with sugar and cook till the sugar dissolves completely. Add cardamom powder and chopped Almonds and Pastachio to add the flavor and crunch.
Once the stuffing is ready and also the Parvels are well cooked and soaked in sugar syrup, take each parval out of the sugar syrup and carefully fill it with the stuffing. Decorate with silver paper if you wish to.
This can be served cold or hot and can be kept in refrigerator for up to two weeks.