Pasta With Chicken Keema
Pasta is an Italian dish but very much in demand among Bengalis too. Thus it has been prepared in a little bengali style.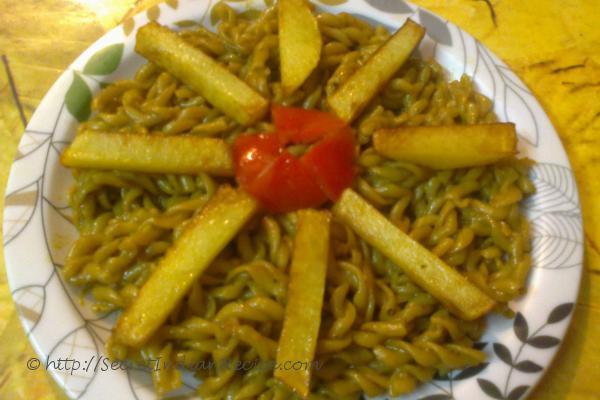 Ingredients:
Pasta- 100g
Chicken Keema- 50g
Onion chopped- 1pc
Tomato Chopped- 1pc
Potato- 1 finger sliced
Butter- 1tsp
Salt & sugar- to taste
Water- 1cup
White Oil- 5tsp
Directions:
Boil the chicken keema and pasta together.
Now heat the butter in a pan and add the onion and tomato and saute.
Now add salt and sugar and cook for sometime.
Add the boiled pasta and keema with the chicken stock and keep cooking.
When the water vaporizes, keep the pasta off the oven.
Now fry the potatoes to finger chips.
Garnish the pasta with finger chips and serve hot.
Other Indian Recipes that you may Like !