Patisapta - A Bengali Sweet
Patisapta - a very old Bengali traditional sweet dish. My grand mother, her grand mother and her grand mother - over the ages have been cooking this. It is in our culture. It is made on all special cultural programs. We get the mention of this dish even in Bengali fairy tales. Recently I had an opportunity to visit a five star hotel and to learn an Indo-Western version of this dish.Here is a presentation of my version of the recipe.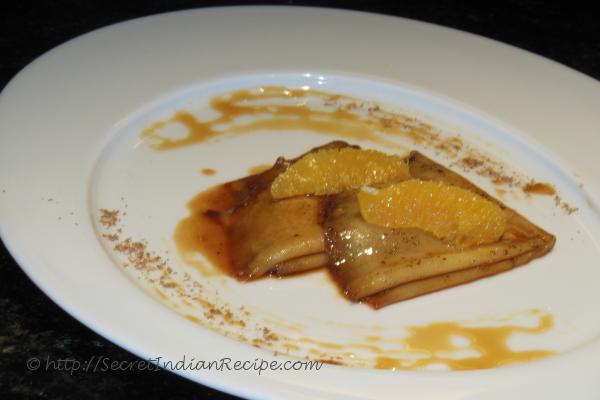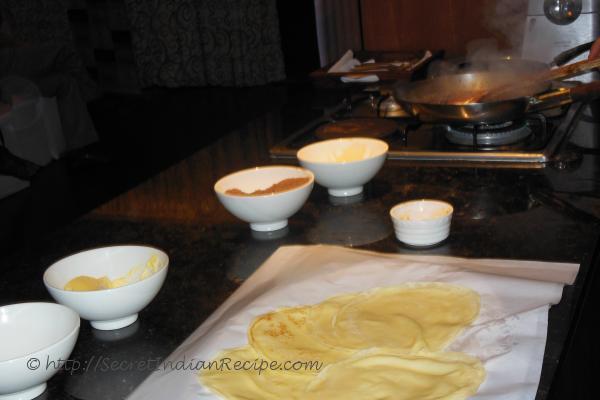 Ingredients:
All purpose flour - 500 grms
Rice flour - 150 kg
Milk - 2 ltrs
Sugar - 200 grms
Salt - a pinch
Jaggery - 350 ltrs
cooking oil - 5 table spoon
Directions:
For the Crepe In a wide bowl, take the maida & rice flour. Mix 2/3rd milk slowly and start mixing the batter. The consistency of the batter should be semi thick.
Heat a Pan and smear a little oil/ghee on it
Take a ladle full of batter and pour it on the Frying Pan. Evenly distribute the batter in a circle. One has to do this quickly before the mix sets.
Once you feel one side is cooked flip over. Fold the crepe and when it browns a little take it out.
Heat the jaggery with rest of the milk and a little bit of water. When they start boiling drip the crepe. After 1 or 2 minutes remove. The time to keep it in the jaggery depends on the thickness of the crepe made.
Footnotes:
Drizzle the crepes with additional liquid jaggery, season with seasonal fruits and serve. Mix fresh grated coconut and sugar well so that the coconut gets soft. Then put it on heat, and mix using a spatula and stuff it if you want another version of it.