Patrani Aloo Wraps (steamed Spicy Potato In Colcassia Wraps)
In Bengal, our meal in never complete without 'Potatoes'. If you get a chance to eat a bengali meal, you will surely have some ''Aloo chorchuri'' in the first serving. There can also be Aloo (Potato) in their vegetables or at least in the Mangsho curry ( Mutton curry). I am also a great admirer of this versatile vegetable. You can make hundreds of recipes by this humble vegge. This recipe is a new, vegan and healthy option of the well known " Patrani macchi'.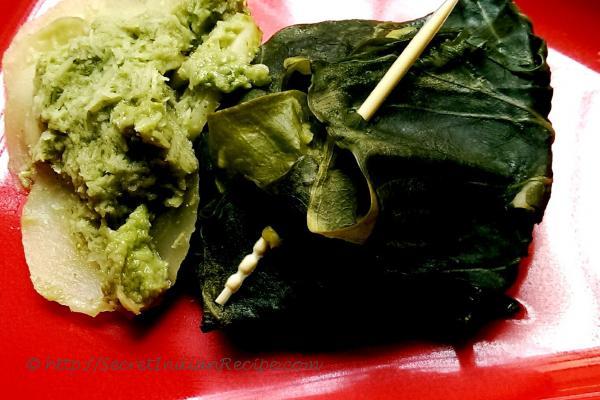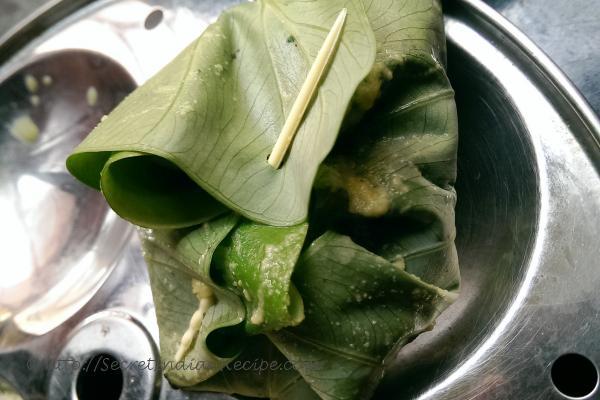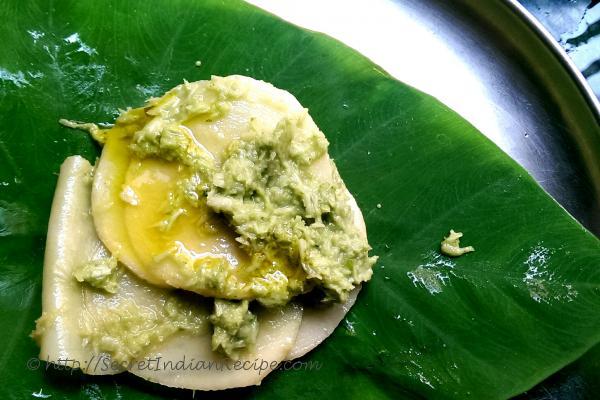 Ingredients:
Aloo (Potato) – 2 medium sized
Green Coriander leaves – ½ bunch or ½ a cup chopped
Green chilies – 3-4 or as per taste
Garlic pods – 4-5
Fresh Raw Coconut – ½ cup grated.
Salt – to taste
Mustard oil – 4 tablespoons
Kacchu patta (Colcassia or taro leaves) – 8
Directions:
Peel and dice the potato in thin slices.
Put coriander leaves, garlic, green chilies and coconut in a grinder and make a coarse paste. You can use very little quantity of water….if required.
Put the grounded paste in a bowl. Add potatoes, salt and mustard oil and mix gently to coat the potatoes with the paste.
Wash and pat fry the colcassia leaves.
Heat water in idly steamer or in a large pan. Grease the idly plate or the vessel for steaming.
Take each colcassia leaves, put some potato slices along with the grounded masala in the middle. Carefully wrap the leaf …I used some handmade toothpicks to hold these.
Steam the patrani aloo wraps for 20 mintues on low flame. After 20 mintues take out the patrani aloo wraps and serve hot with steamed rice or chappati.