Patta Gobhi Aur Aloo Ki Sabji ( Potato With Cabbage)
The Potato and Cabbage recipe is one of the famous recipes in North India. I prepare it once in a week in cabbage season. The method is very easy to prepare this recipe. Many people also add some green peas to it to increase the quantity and taste.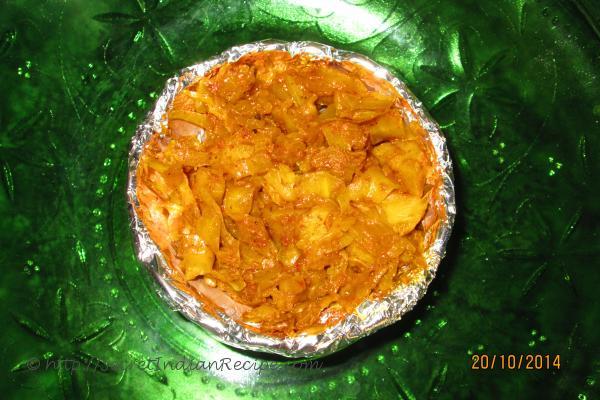 Ingredients:
Cabbage - 250 gms
Potato - 250 gms
Oil - as required
Asafoetida - 1 pinch
Cumin seeds - 1/2 tsp
Green chillies - 2 (chopped)
Ginger - 1" ( sliced)
Turmeric powder - 1/2 tsp
Coriander powder - 1/2 tsp
Red chilli powder - 1/4 tsp
Mango powder - 1/4 tsp
Garam masala ( blend of spices) - 1/4 tsp
Salt – as per taste
Directions:
Peel the potatoes and wash it. Remove the 2 leaves of cabbage and cut it into thin slices. Cut the potatoes into eight small pieces.
Heat oil. Add cumin seeds and asafoetida. Fry it properly. Add turmeric powder, green chillies, ginger and coriander powder. Stir.
Add potato, cabbage, red chilli powder, salt and 1/2 cup of water. Cover the pan and cook for 7-8 minutes.
Open the pan and cook until it is cooked properly.Add mango powder and garam masala. Stir nicely. Cabbage with potato recipe is ready to serve.