Pav Bhaji :)
Pav bhaji is an Indian fast food dish that originated in Mumbai cuisine.The pav-bhaji is a spicy preparation with a mixture of vegetables, either whole or mashed, a generous dose of fresh tomatoes, a dollop of butter, optional toppings of cheese and dry-fruits and fresh fruits, consumed with warm bread gently or crispy fried in butter - an all-time, any-time favourite with Mumbaikars.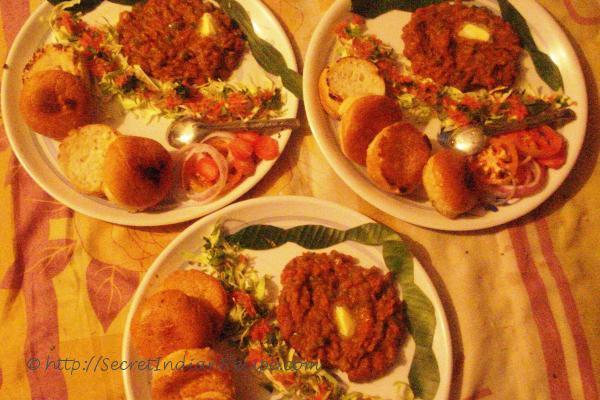 Ingredients:
Pav (Bread)
Butter (Salty)
Bell Pepper 2 cup finely chopped
Onions 4 finely chopped
Potatoes 4 medium
Tomatoes 4 finely chopped
Cauliflower 2 cup finely chopped
French Beans 1 cup finely chopped
Green Beans 1 cup finely chopped
Carrot 1 finely chopped
Black Pepper 1/2 tsp
Pav Bhaji Masala 1 tsp
Red Chilly Powder 1/2 tsp
Salt To Taste
Mango Powder 1 tsp
Green Chillies 4 to 5
Vegetable oil 4 tablespoon
Directions:
Take 4-5 normal size potatoes and boil it in pressure cooker.
Boil it till potatoes are tender and cooked.
Check by inserting knife or fork,if it inserts easily then it is cooked.
Chop every vegetable finely.
In a pan or wok heat oil and some butter.Once oil gets hot,add cumin seeds,as soon as they start crackling add green chilies.
Add the onions,bell peppers,cauliflower,beans,carrot,peas,potatoes & some salt.
You can also add any vegetable you want.
Mix well,cover the pan and cook it for 10-12 min.
Now add red chilli powder,mango powder,pav bhaji masala (spice) and mix it well.
Add chopped tomatoes and stir well.Take a ladle and mash all the vegetables.
After all the vegetables are done,add butter in bhaji.
Take a tava,put some butter then fry the pav(bread).
Serve it hot pav with bhaji and salad.
Footnotes:
For cheese Pav bhaji, grate and add cheese cubes on top of the bhaji just before serving.