Pav Bhaji (bread Served With Vegetables)
Pav Bhaji is a popular Indian snack. Here bun breads are served with mashed spicy vegetables. Although it has a good amount of butter but the quantity of boiled vegetables makes it a healthy option.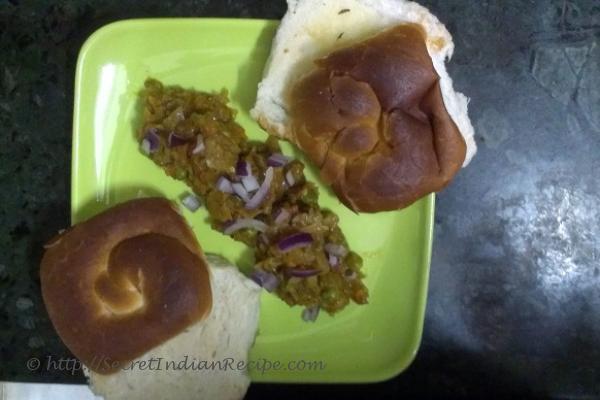 Ingredients:
Carrot 50 grams (1 ounce)
Beans 50 grams (1 ounce)
Capsicum 50 grams (1 ounce)
Cabbage 50 grams (1 ounce)
Potatoes 2
Onion 2
Tomatoes 2
Green peas ¼ cup
Ginger and garlic paste 2 tablespoon
Red chilli powder 1 tablespoon
Tomato sauce 2 tablespoon
Butter 4 tablespoon
Pav ( Bun Bread) 8 pieces
Oil 4 tablesppon
Salt 1 tablespoon
Pav Bhaji Masala 1 and 1/2 tablespoon
Directions:
In a karahi heat oil and add onions. Fry onions till they turn they turn translucent.
Add tomatoes, ginger garlic paste aand red chilli powder. Fry for 2 mintues and then add pav Bhaji masala powder. Mix well.
Finally add the boiled vegetables.Mash and mix the vegetables thoroughly. Add salt and butter.
To serve cut the pav into halves and apply some butter. Roast the pav a little and serve the pav with bhaji and chopped onions.