Pavakka Achar ( Bitter Gourd Pickle)
I know when you think of bitter gourd you wonder how could one savour it as a pickle. But trust me this pickle is not as bitter as the vegetable. This recipe uses a lot of vinegar to control the bitterness so if you do not use vinegar please substitute it with tamarind.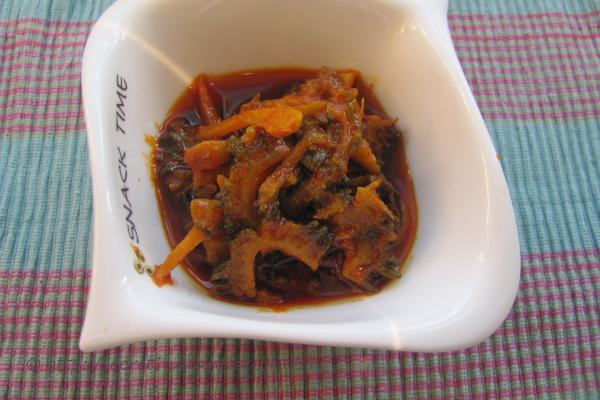 Ingredients:
Bitter gourd-2 kg
Garlic- 200 g
Ginger- 1 inch piece 150 g
Turmeric powder- 1 tsp + 2 tsp
Chili powder- 2 tsp + 3 tsp
Kashmiri Chili powder- 2 tbsp
Vinegar- 200 ml
Asafoetida- 2 tsp
Fenugreek powder- 1/2 tsp
Mustard seeds- 2 tsp
Curry leaves- 5 sprig
Water- 1 cup
Gingely oil- 100 ml +200 ml
Salt- 2 tsp + 4 tsp
Directions:
Wash and deseed the bitter gourd. Chop it into thin semi circles.
Marinate the bitter gourd with turmeric, chili powder and salt. Keep it in an airtight container for 4 hours.
You will note that a lot of water has released from the bitter gourd after 4 hours. Squeeze the bitter gourd completely and set it aside on a plate.
Heat 100 ml oil in a pan and deep fry the bitter gourd pieces. Drain them on a napkin and set aside.
Add the remaining oil to the oil used for frying. Add the mustard seeds and curry leaves and let the mustard seeds splutter.
Add the garlic and ginger and fry till golden yellow. Meanwhile in another pan boil the water with salt and vinegar.
Now add the spice powders and saute them till the raw smell goes away.
Add the bitter gourd pieces to the spices and saute for 5 minutes.
Add the water and vinegar mixture and bring the pickle to a boil. Switch off the flame after 5 minutes and let the pickle cool.
Store in sterile jars. If refrigerated this pickle lasts more than a year.If you plan storing it outside, please see that the oil tops the pickle so that it does not get fungus attack.