Pavakka Theeyal (bitter Gourd In Spicy Fried Coconut Gravy)
Pavakka or bitter gourd is a very nutritious vegetable. It is very good for diabetic patients too .Here is the traditional recipe of Kerala style pavakka theeyal.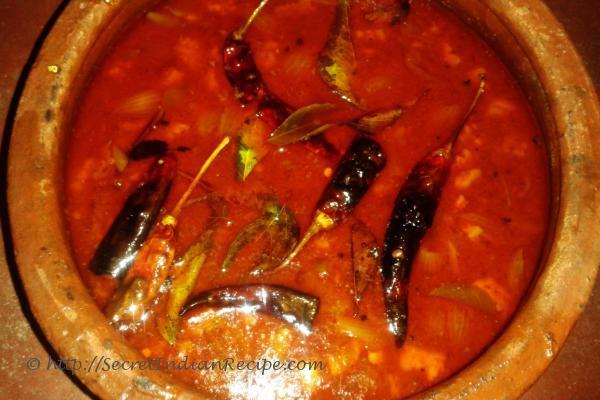 Ingredients:
Pavakka or bitter gourd - medium sized 1
Chopped Small onion-250 grams
Chilli powder -2heaped teaspoon
Coriander powder -1 teaspoon
Turmeric powder -3 pinch
Salt -as per your requirement
Green chilli - 5 nos.
Tamarind-a small ball
Grated coconut-1cup
Fenugreek-1 teaspoon
Asafoetida-1/2 teaspoon
Cumin - a pinch
Water-2cups
FOR SEASONING
Coconut oil-5 tablespoon
Mustard seeds-1 teaspoon
Red chilli -4 nos.
Curry leaves-2 sprig
Directions:
First wash and cut the bitter gourd into small pieces.
Switch on the stove and place a frying pan on the stove.
Then fry the coconut with fenugreek, asafoetida and cumin till it reaches a dark brown color.
Add to it chilli powder, turmeric powder and coriander powder to it and fry for two more minutes.
Grind it into a smooth paste.
Sort bitter gourd, onion and green chilli in oil for 10 minutes.
Soak the tamarind in water.
Add the tamarind water and salt in bitter gourd and cook it for 5 minutes, so that the bitter taste of bitter gourd will be reduced.
Add the roasted masala paste that we already prepared to this and some water.
Bring it to boil.
When it boils, reduce the flame.
Remove it from flame when a semi thick consistency is reached.
In another pan, add oil and to it add mustard seeds, curry leaves and red chilli and fry it.
Pour it over the theeyal.
Serve hot.
Footnotes:
If you want to reduce the bitterness of the curry, add a small pinch of jaggery or sugar and stir well before removing from the flame.