Pavakkai Kuzhambu
Bitter gourd cooked in tamarind gravy.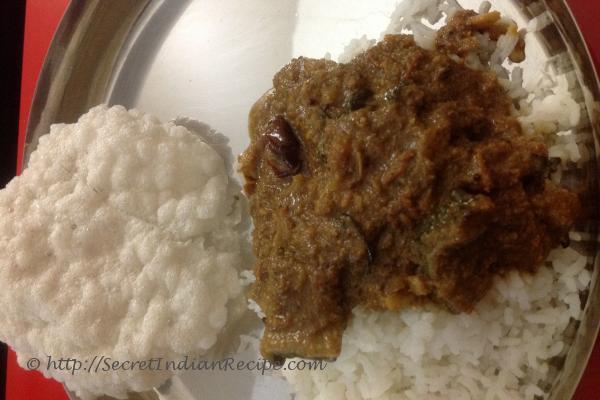 Ingredients:
Oil - 2 tbsp
Whole red chilli - 2 nos
Mustard - 1/2 tsp
Split urad dal - 1/2 tsp
Curry leaves - 1 spring
Garlic - 4 cloves
Shallots - 1/4 cup
Bitter gourd - 2 nos
Tomato - 1/2
Sambar powder - 1 tbsp
Tamarind - 1/2 lemon size ball (extract juice in 1/2 cup of water)
Coconut - 2 tbsp
Cumin seeds - 1/2 tsp
Fenugreek seeds - 1/4 tsp
Jaggery - 1 tbsp
Directions:
Preparation: Cut and remove seeds from bitter gourd. Roast cumin seeds and fenugreek in a drop of oil and grind it into a smooth paste with coconut.
Bring it together: Heat 2 tbsp oil (preferably sesame oil). Add the red chilli, mustard, urad dal and fry until urad dal changes to golden. Add garlic followed by chopped shallots. Once shallots are translucent, add the bitter gourd and sambar powder. Saute a bit and cook covered after adding 1/2 cup of water. Once the bitter gourd is half done, add the chopped tomatoes and cook it covered for a few minutes. Add the tamarind extract and salt and cook uncovered for 5 minutes in low flame. Check if the bitter gourd is cooked through and add jaggery and the coconut paste. Stir and cook for a couple of minutes.