Paya Shorba (goat Trotters Soup)
Goat trotters also known as paya is a source of protein and often served in the winters. In the South its often cooked in a coconut gravy the Chettinad style. We don't cook it in Kerala mostly it's used for soups. But my mom does make a spicy curry for the winters. The other recipe we follow with paya is the paya shorba a spiced soup which we also end up having like a curry with rotis. But the shorba is thinner in consistency and has more whole spices to brew the trotters into a soup.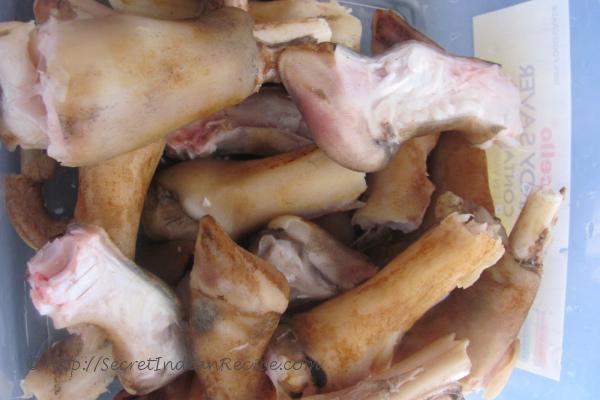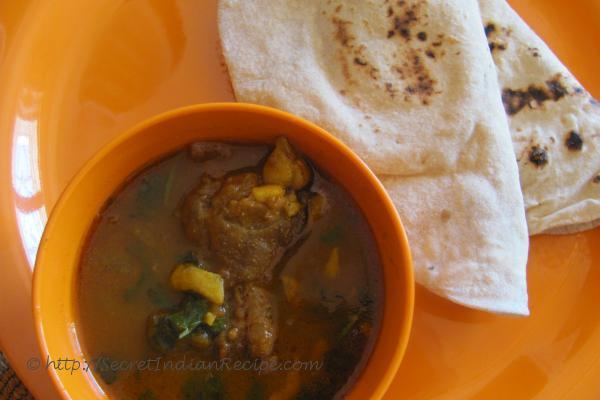 Ingredients:
Paya- 10
Onions- 3
Garlic- 7 cloves
Ginger- 1/2 inch long piece
Cloves- 6
Cinnamon- 1 stick
Green cardamoms- 2
Garam masala- 1/2 tsp
Chili powder- 1 tsp
Ghee- 1 tsp
Salt- to taste
Black pepper powder- 1 tsp
Chopped coriander leaves- 1 tsp
Lime juice- 1 lemon
Directions:
Clean and wash the paya. Make a paste out of the ginger, garlic and onions.
In a pressure cooker, add the paya, the ground paste, turmeric, salt and all the whole spices.
Pressurecook the paya with 4 cups water up to 4 whistles. After the pressure settled down, strain the paya and add the flesh from the stock to the strained stock.
In a frying pan, heat some ghee and add the garam masala and chili powder. Saute the spices and add it to a cauldron with the strained stock of paya.
Add lemon juice and chopped coriander leaves and let the paya simmer for 1 and half hours on low flame. Add 2 cups water more in 30 minutes and let the soup simmer.
Serve with flat bread or just as it is.
Other Indian Recipes that you may Like !