Peanut Gravy Curry
It is an easy to prepare side dish. The main ingredients used are peanut and coconut which have several health benefits.
Besides , it's a tasty curry too.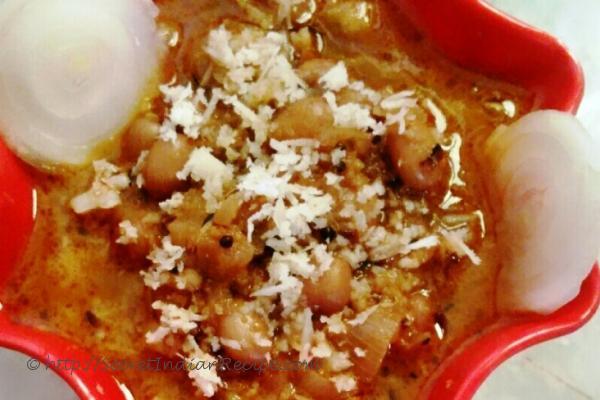 Ingredients:
Groundnut - 1 cup
Chopped small Onion - 1/2 cup
Green chilli - 2
Grounded Cardamom - half pinch
Cumin seeds- 1 teaspoon
Cloves - 2
Cinnamon - 1 inch
Grated Coconut - 2 tablespoon
Chopped ginger - 1 teaspoon
Chopped Garlic - 1/2 teaspoon
Oil - 2 tablespoon
Turmeric- 2 pinches
Red chilli powder - as required
Salt - To taste
Water - 2 cups
Directions:
Boil Peanut with salt, water. Keep it aside.
Grind onion with the spices provided in the ingredients.
Heat oil in a pan. Add the grounded paste. Fry until it turns golden brown.
Add the boiled peanuts along with water, turmeric. Cook it for 5 minutes over low flame.
Now add red chilli powder and cook for 5 more minutes. Add salt if required.
Once cooked properly, remove it from stove. Garnish and serve hot with Rice or chapati.
Footnotes:
Cook the paste on low flame until it turns golden brown. It provides an add-on for the gravy.